Karen Hogan and her son, Finn, love homeschooling. They are part of a growing cohort of families who left the public school system because of the coronavirus pandemic, eschewing the uncertainty of hybrid schedules and in-school education for freedom and flexibility.
For the Hogans, that means the literal freedom of the open road.
"It's an opportunity for Finn and I to hit the road and go, you know, get more experiential education and travel a bit," Hogan said. "We just bought a camper."
Before the COVID-19 pandemic, homeschooling was the purview of a select few families, just 3% of school-age children in 2016. Homeschooling gave those families the chance to travel or to work jobs that kept them on the road while still being close to their children. For many families, it allowed them to teach religious curricula not offered in public schools. One report from the Homeschool Legal Defense Fund said two-thirds of homeschool families are Christian.
But with the pandemic, families have been making the switch in massive numbers.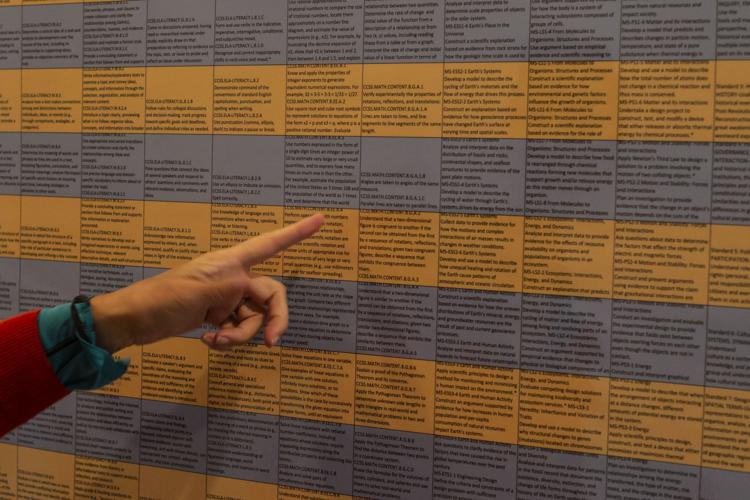 "We have definitely seen a huge increase," said Lindsey Sears, president of Homeschoolers of Wyoming.
Sears's organization helps families make the jump to homeschooling. Though it is founded on Christian principles, she said, "We love to support all homeschoolers, regardless of their religious preferences," connecting both secular and religious families with resources in their respective corners of Wyoming.
Nearly overnight this spring, parents across the country were thrust into the role of school paraprofessionals. School district teachers provided curriculum and Zoom classes, but parents, especially those who lost their jobs or who could work from home were forced to take a more active role in their kids' schooling, helping them navigate virtual education.
For some, the experience was galvanizing.
"I had always been serious about homeschooling," parent Ellie Oksanen said. "It was something both my husband and myself are curious about, and we just decided, you know, with a pandemic … it was the perfect opportunity to give it a go."
Oksanen and her husband, Arden, have two kids, a first-grade daughter, Liv, and a preschool son, Anssi. She is a former educator, an art teacher at Journeys School (now called Mountain Academy), who left to raise their kids. Arden is a filmmaker, so they have flexible schedules that allow them to shoulder the educational load.
Homeschooling allows the family to follow their passions. Cooking and gardening are close to Ellie Oksanen's heart, as their family feels the "local food movement" is important. Being in charge of her kids' curriculum allows her to incorporate traditional subjects into the kitchen.
"We can learn math skills through cooking," she said. "And you know, obviously, history and literacy connects to cooking, too."
Teton County School District No. 1 has designed a hybrid schedule for middle and high school students in which they go to class two days a week and learn virtually, via Zoom and other digital platforms, for three days. Administrators say the program has helped them contain coronavirus transmission in schools, but some parents weren't happy with the idea of their children spending more than half their week tethered to a screen.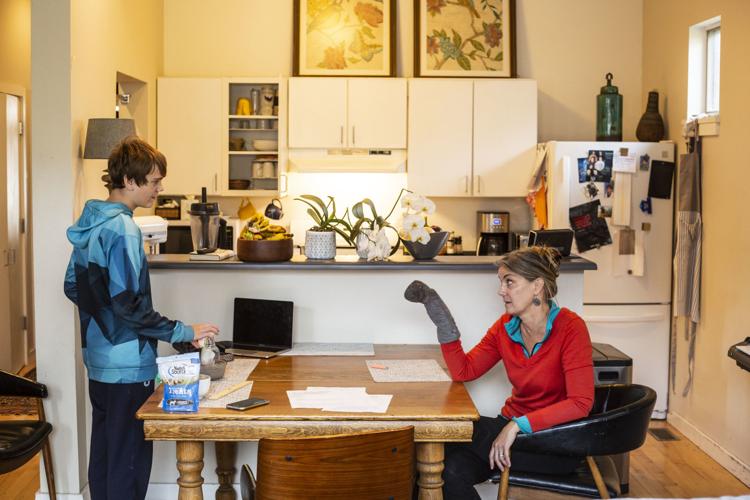 But some families found themselves skeptical about how much time their students would spend on computers throughout the school year.
"I got the word that the public schools were going two days a week and then two days at home," Hogan said, "and we just made the decision to streamline and simplify and use this opportunity to maybe try out some new ideas that I've kind of always wanted to play with in education."
Amelia Mayer, a parent of five who lives in Kelly, also wasn't excited by the hybrid schedule. She has two kids at Kelly Elementary School — the modern equivalent of a frontier schoolhouse, with 40 to 50 kindergarten through fifth graders in three multi-grade classes — and three being homeschooled: a sixth-grader and a pair of preschoolers.
For her elementary schoolers, Mayer "loves" the public school system, because they are in the classroom four days a week. The uncertainty of the hybrid model, however, propelled her to keep her sixth-grader home.
"The options for the middle school meant too much time online-learning in my opinion," she wrote in an email to the News&Guide. "And I worried about what would happen once school started and COVID numbers went up."
Mayer, Oksanen and Hogan are not alone in their interest in homeschooling.
The Wyoming Department of Education won't have official numbers on how many families chose to switch until July 2021, because individual districts don't report those number until the end of the school year. Anecdotally, however, district staffers there are seeing the same thing Sears at Homeschoolers of Wyoming is seeing.
"There has been a significant increase in questions from parents," said Trenton Vonburg, an education consultant at the state department. "And not only that, I've gotten some phone calls and emails from people out of state who said, 'Hey, we're moving to Wyoming, and we want to homeschool our students.'"
In addition to homeschooling, the COVID-19 pandemic has created demand for options in virtual education — online schools in which educators provide curriculum, instruction and grading, but the school work is done at home. That's not homeschooling, Vonburg said, which follows a strict set of rules laid out in state statute (it is for parents or guardians to educate their nuclear family, for example, they must register as homeschoolers with their local district and they must deliver the curriculum).
Even though Vonburg cannot yet quantify the increase in homeschooling in Teton County, the school district has some preliminary numbers. In the 2019-20 school year, 58 kids were registered as homeschooled; so far this school year, the district has received notice that 98 are homeschooling, with an additional 26 enrolled in virtual education programs separate from what the district provides, according to TCSD communications director Charlotte Reynolds.
With nearly double the number of families homeschooling this year, connections between experienced families and neophytes are proving crucial. Homeschoolers have always formed loose communities around sharing curriculum and advice, as well as facilitating activities for students to get some of the social interaction they may miss by not being in school.
The proliferation of social media today means many parents have Facebook groups to use as virtual gathering spots and sounding boards. As more families explored alternatives, longtime homeschoolers needed a way to work with them.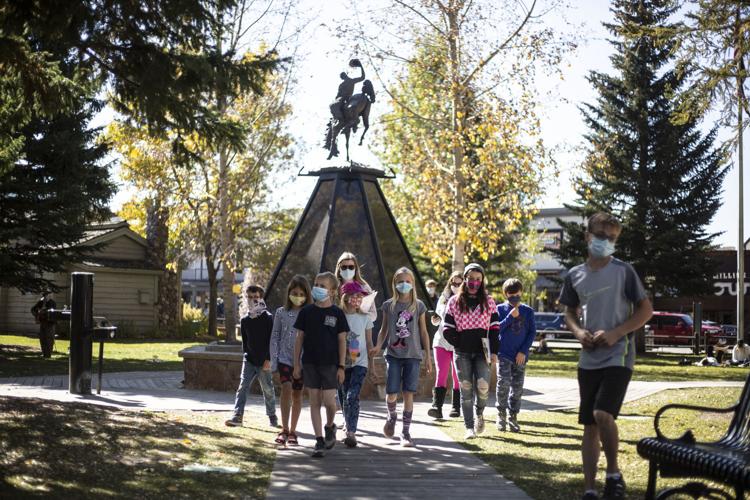 "We communicated mostly by email," Primm Loudenslager said of the early days of the pandemic. "And then I started a Facebook group for homeschoolers in Teton County because I was getting so many questions."
Loudenslager has homeschooled for five years, so she can be a fountain of knowledge for those just starting out. The Facebook group she created hasn't yet become a place where families plan meetups, she said, but they do post questions and share helpful lessons or videos.
At first the pandemic took a toll on some of the social opportunities parents like Loudenslager were used to creating.
"I'm pretty good at generating activities if we can't find any," she said, "but you can't generate activities if you're not allowed to see anyone."
Summer offered chances to create outdoor lessons, like a recent scavenger hunt organized by the Jackson Hole Historical Society and Museum. Small groups of homeschool students met downtown, and museum staff led them on a tour of Jackson's historic buildings.
Though many homeschool families expressed the importance of independence — parents interviewed for this story said their children like homeschooling because of how much time they get to spend with their family — opportunities to get together with other families are essential to any education. Sears, the Homeschoolers of Wyoming president, said that in her community in Cheyenne, families were beginning to meet up again, creating a richer experience.
"There has been a little bit of that, where some of the activities and things that normally homeschoolers are gathering for haven't been taking place," she said. "But I think ... for the most part those programs and things are back up and running."
Even with their experience with virtual education, parents with kids still in school may hear about homeschooling families and think they have some secret sauce that allows them to make it work. Many homeschool parents admitted that having one person who can work from home, or not work at all, makes it easier, but it's not essential.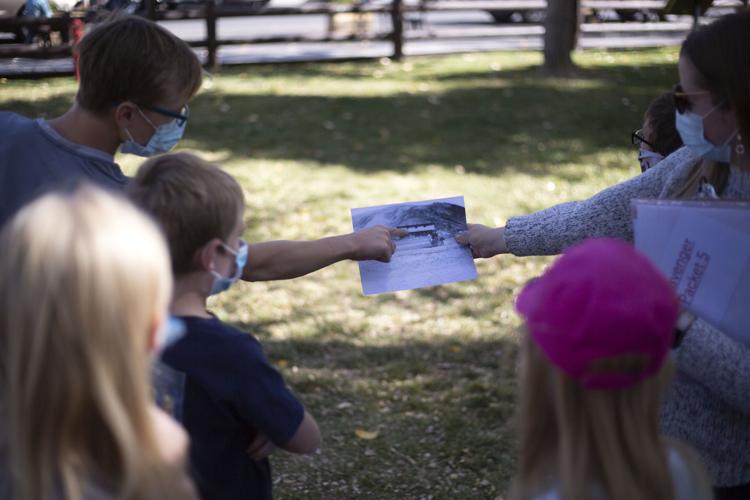 "If you have someone who can dedicate their time and energy towards homeschooling, it is going to make it easier without having your attention divided," Sears said. "That being said, for the entirety of my nine years of homeschooling, I've always worked either part time or full time from home."
Whether or not the homeschooling trend continues, parents like Ellie Oksanen say that if families have considered homeschooling, they should try it. They might find they have the flexibility to make it work, and it might open up new opportunities for learning and connection with their children.
They might even find they are good at it.
"Any parent is qualified to be a homeschool parent," Oksanen said. "You do not need to have a background in education. You are the person, you are the people who are most invested in your children.
"So it makes you the people that know your children the best."