For half of Kelsey Mitchell's students at Mountain Academy she's a perfectly normal teacher. She delivers science lessons in the classroom, working one on one with students on experiments.
For the other half she's a projection on the wall. She speaks to them over Zoom from another room on campus while a graduate fellow from Teton Science Schools handles the in-person duties.
"It's a really weird setup," Mitchell said. "It's different."
Such is life for an educator right now. The coronavirus pandemic has turned things upside down for teachers; many who work in public districts teach virtually at least part of the time.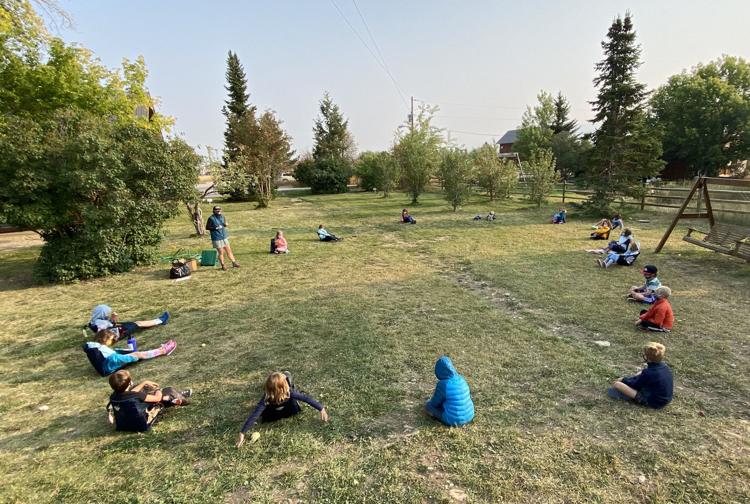 But Mitchell and Siri Berg-Moberg, her graduate assistant, at least are in the classroom five days a week. The teachers at the private school count themselves lucky that their schedule looks relatively normal and that they are not having to manage a hybrid schedule that splits days between the classroom and virtual education, like Teton County public schools.
Though the pandemic has disrupted education around the globe, independent and private schools have adapted differently from public schools, in part because of their size. At its upper school Mountain Academy created two cohorts by grade level, one with ninth and 10th graders, the other with 11th and 12th graders, limiting the amount of interactions students have.
Mitchell and Berg-Moberg work in person with one cohort each, and Mitchell teaches virtually with the other, allowing students to maintain their full schedule of classes. But the necessary alterations have changed the dynamics of the school a bit, they say.
Classrooms have been reconfigured, moving from small pods of desks to a more traditional layout with spaced-apart rows. And having one teacher on screen and the other in the classroom affects the way they each connect with students.
"It certainly made me the primary instructor in person," Berg-Moberg said.
Campus setups can also create safe ways for students to move around. For instance, at the Victor, Idaho, branch of Mountain Academy, cohorts of students can come in separate entrances so they don't pass each other in the halls.
"We're fortunate, right?" Head of School Michelle Heaton said. "We have the space, we have the right building configuration to be able to create this modified in-person program."
Because public schools serve so many more students it can be more difficult for them to create conditions that allow for full-time, in-person instruction. That's true not only in Jackson Hole but around the country, and districts in urban and rural areas have grappled with choices of reopening, switching to hybrid education or staying in a virtual mode.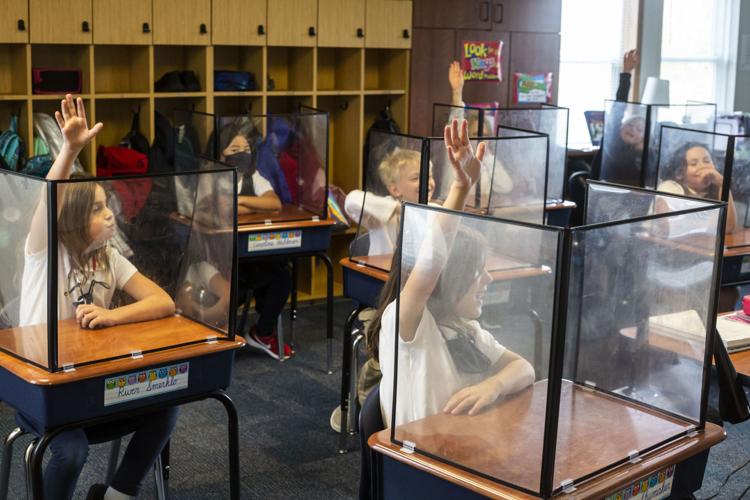 That may be part of the growing interest in both home schooling and private schools. As the News&Guide has previously reported, the number of families home schooling in Teton County roughly doubled this year, and Heaton said Mountain Academy has 71 new students, bringing its total to around 275.
At the Jackson Hole Classical Academy, a private school in South Park that employs a classical brand of pedagogy, interest has also been high. More families than usual have applied to have their children enter the school, Director of Advancement Elizabeth Birnie said.
The Classical Academy, which has stayed open five days a week as well, caps its grade levels to maintain small class sizes, so enrollment hasn't necessarily increased. Still, the two schools show how parents are interested in finding options that provide a full school week.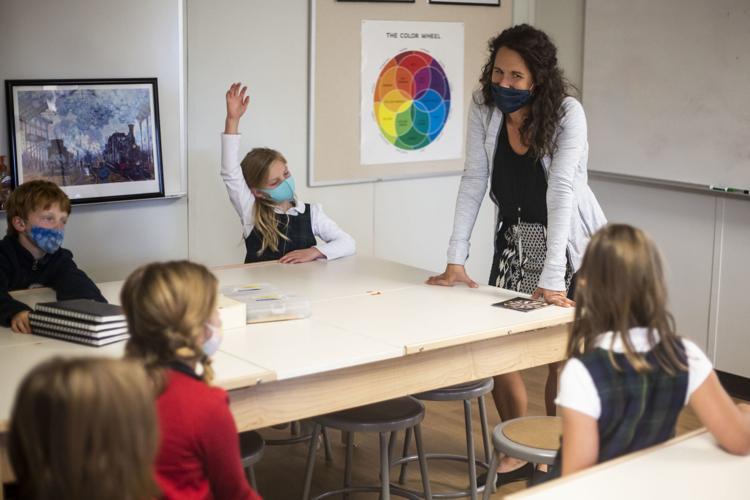 Both schools have gone to hybrid or virtual education in some capacity because of students or teachers who've tested positive for COVID-19 or who were exposed. Mountain Academy's Heaton said she thinks the interest in her school is driven both by the desire for full-time education and a connection with the school's mission.
"What we've been pleased with is the families that are coming to us are very interested in the type of education that we are offering," she said. "It is encouraging to see more openness from families and looking at progressive educational opportunities."
Not every private school maintained a five-day week. The Jackson Hole Community School, a high school tucked into the office park west of Smith's, began the year fully virtual. Doing so allowed administrators to assess the course of the pandemic before making the switch a few weeks ago to a hybrid model. It also gave them practice in working with students virtually.
As at most schools, public or private, students at the Community School were given the option to stay home or to come into the classroom. While most chose in-person learning, the virtual weeks at the start of the year gave educators the experience to help students like Josh Hansen and Cannon Mueller. They chose to work from home, but because of the way the Community School runs its hybrid lessons, they could synchronously tune in during the day while their teachers worked in the classroom.
"The most striking thing to me has been how opting out hasn't felt like opting out at the Community School," Hansen said. "I can participate in every discussion and hear every lecture on time. So even though I'm at my desk in pajamas, I'm still doing the normal school thing."
Outside a pandemic, private schools offer a nimbleness and accessibility that public institutions often cannot because of class sizes. During this time of uncertainty, those abilities add to the appeal.
"One thing that we're able to do is be really responsive to our students and hear their feedback," said Manish Bhatt, head of the Community School.
At Mountain Academy, Heaton and her staff sought student feedback this fall. Like other schools, it went to distance learning last spring when the coronavirus outbreak started.
Switching the educational model overnight was a challenge, and teachers and students did what they could to make that time productive. But teachers like Mitchell, the Mountain Academy science teacher, said it wasn't perfect.
Before returning this fall they surveyed students to see what worked during the spring. Knowing that possible COVID-19 exposures would necessitate some distance learning this year, they wanted to know which strategies were successful.
"They had very specific answers," Mitchell said, like teachers giving a 20-minute lesson, then allowing time for students to complete some work.
While any teacher would likely say being in the classroom five days a week is preferable, it presents challenges in the face of a pandemic. More is known about COVID-19 than in the spring, which adds to schools' ability to manage cases that arise while keeping students in the classroom. But the danger from the virus can't be fully mitigated away, and teachers balance the joy they feel being in the classroom with the reality that they or their students could contract the virus at school.
"I love to talk about science all day; it's so much fun," Mitchell said. "When I'm able to do that in the classroom, I'm so grateful for it.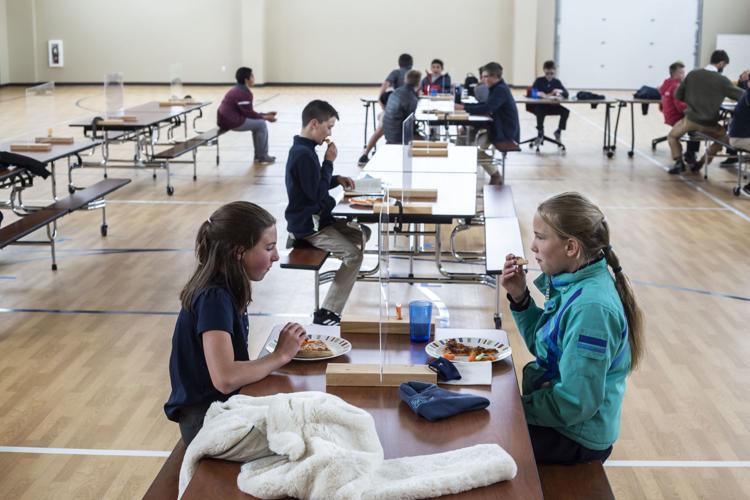 "But also," she said, "we are putting ourselves at a measured risk."
At a time when public health officials are telling people to interact only with the people they live with to curb viral spread, teachers work with dozens of kids with varying degrees of after-school activities and other possible sources of exposure.
"There's 27 people in my school bubble, so I have a slightly larger bubble than some other people," Berg-Moberg said. "I'm the most dangerous person in my family, and that's a lot of responsibility."
For parents of students, teachers taking that risk and developing precautions to minimize it in the name of in-person instruction is much appreciated. No matter if their kids go to a public or private school, parents are happy to have some structure for their kids, at least for a couple times a week.
Deb Keenan is one of those fortunate enough to send their children to a school that has been open five days a week for much of this school year. Her first grade daughter, Sally, is in her second year at the Classical Academy.
Though Keenan chose the school because of its curriculum and the values it espouses, she is happy Sally has been able to be in the classroom. She attributed that to the work educators have done to develop new protocols like temperature screenings or installing plexiglass shields.
"It has required so much nimbleness on the part of educators and families," she said, "and that's not a bad thing, you know, to have nimbleness in how we educate our children."
Keenan counts herself lucky to have more access to school, to be a quick email away from Sally's teachers. Even in the face of the pandemic, she is still welcome to drop by the school, something she would likely not be able to do if Sally went to a different school.
"If I want to put my mask on and come to lunch on Thursday because I have time between my real estate appointments, I can," she said. "That really is a treat."