The early scientist gets the bird. Every Wednesday morning for the past 10 weeks the Jackson Hole Wildlife Foundation bird banding crew rose before dawn to set up mist nets around the Teton Science Schools campus near Kelly.
The 10 nets had to be ready to go by 6 a.m. to catch the songbirds that researchers have been tracking all summer. The Kelly campus bird banding station has operated every summer since 1991, making it the longest-running station of its kind in the valley. It also happens to be one of the longest-running stations to supply data to the global Institute for Bird Populations' Monitoring Avian Productivity and Survivorship — or MAPS — database, which started in 1989.
Members of the banding crew spent their Friday mornings during the summer at the valley's other bird-banding station at Boyle's Hill in town, which has been running since 2003.
The banding falls mostly to Dakota Vaccaro and Vicki Morgan, two experienced bird banders hired by the Jackson Hole Wildlife Foundation this summer. The two women run through the net circuit and back to the banding table with ease, expertise and the utmost care for the birds' comfort and safety.
Within seconds they identified the songbird species and determined age, sex and other characteristics. As soon as they dialed in data for one set of birds they headed back out to check the nets again. They walked 10 miles on any given day while banding birds in Kelly.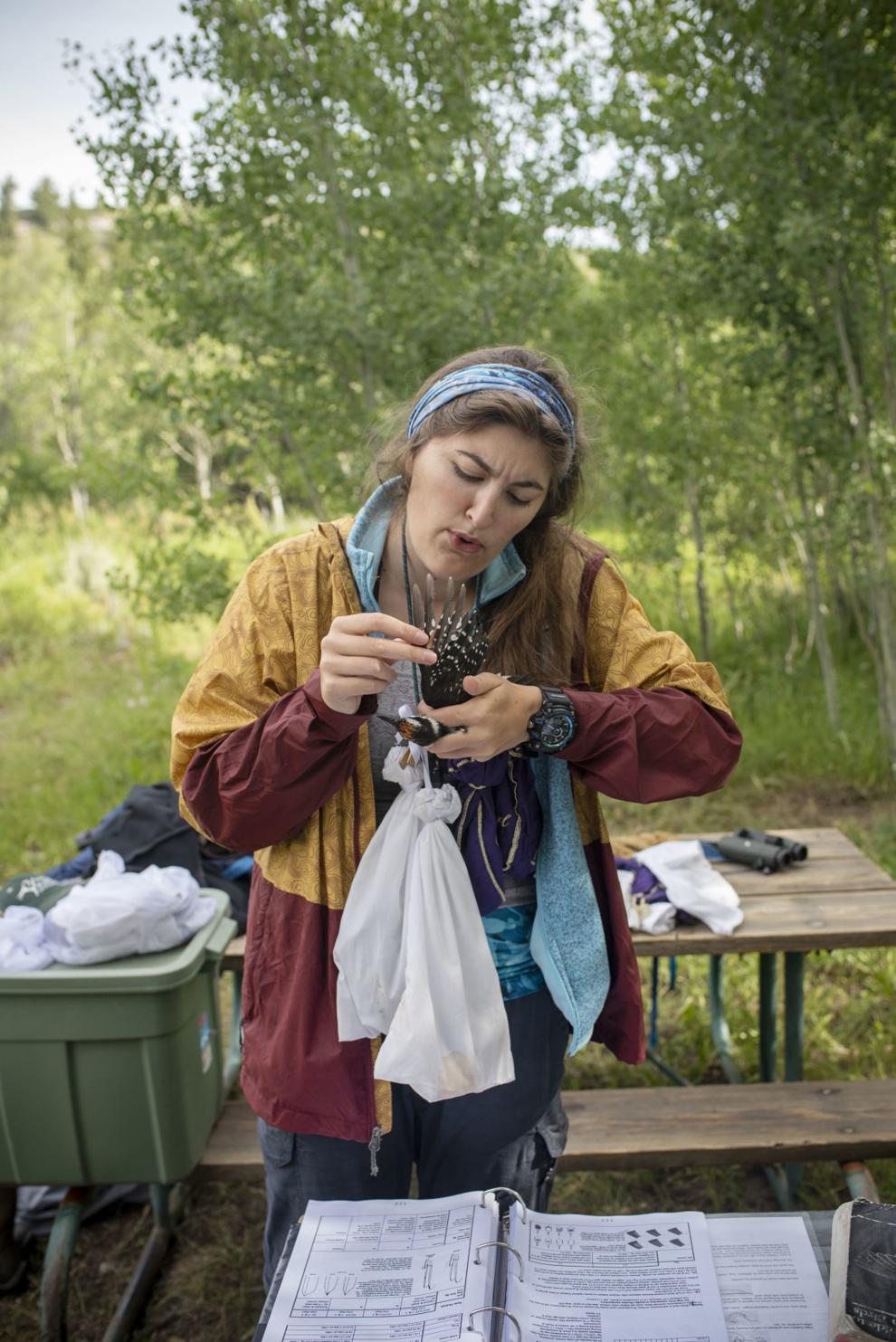 Organized chaos unfolded at the wooden picnic table serving as the banding station headquarters.
A well-worn, annotated and densely bookmarked copy of the "Identification Guide to North American Birds: Part 1" by Peter Pyle sat in the corner alongside reference guides with MAPS codes and spreadsheets on which the crew jotted down data. Their equipment included a leg gauge to determine which size band to place on each bird, banding pliers to place the bands, a wing rule to measure wing length and a scale to weigh the birds.
During a run at around 10 a.m., Vaccaro collected a song sparrow and brought it back to the station. After banding the bird's leg she blew softly on the back of its head to determine its skull thickness. Since it had a second layer of bone, the bird was at least older than 2. Its swollen cloaca also indicated it was a male. She blew again to inspect for molting feathers (he had none) and stretched one of his wings to measure him. Finally, she placed the song sparrow in an open tube on the scale to weigh him and then released him back into the wild.
Some birds, like the song sparrow, appeared mostly unfazed by the process. Others, like the hairy woodpecker Vaccaro caught later that morning, only the second of its species they've spotted all summer, protested loudly. She managed to collect most of the data she needed and to band it. But it flew away before she could weigh it.
The bird banding stations faced an uncertain future when Teton Science Schools disbanded its Teton Research Institute in 2015.
Teton Science Schools had started the ecological research program in 1991 and at its peak ran 10 banding stations around the valley. By the time the research group disbanded — when Teton Science Schools decided to shift its fiscal and strategic goals toward education research — the institute was running only the Kelly and Boyle's Hill stations.
Bryan Bedrosian, who works as research director for the Teton Raptor Center and has been doing wildlife research in the area since 2001, recognized the value of the program and the long-term data set.
"As a biologist and as a bird biologist here I really saw the utility of that data set and wanted to keep it continuous and did the best I could to keep it running while we tried to find a long-term strategy," Bedrosian said.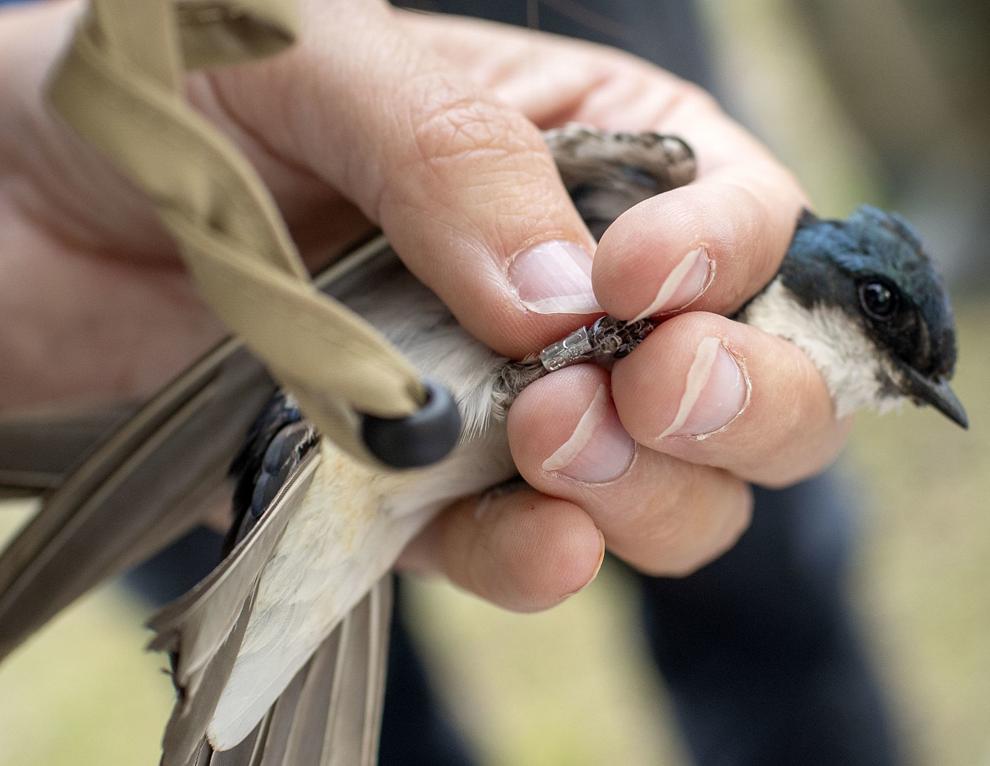 From 2015 through 2017 he and the Teton Raptor Center took over bird banding operations.
But it was too big of a project for Bedrosian to manage on his own, and it was slightly outside the scope of the Raptor Center. So he approached the Jackson Hole Wildlife Foundation to see if it could partner to keep the program running. And in 2018 the Wildlife Foundation officially took over.
"Only through this long-term banding process can we learn about a lot of the species that we both take for granted and that we don't see very often," Bedrosian said. "And being able to feed it into the national database not only helps our local knowledge by understanding where our birds are in relation to national trends, but also helps understand and conserve birds at a continental scale."
Vaccaro's interest in bird banding goes back a few generations and to another continent.
Her grandmother, Wilma Barden, worked as an ornithologist studying endangered species in Australia. Growing up, Vaccaro would visit Barden and eagerly go into the field to observe her grandmother banding birds.
"Since I was a little kid I've always known I wanted to go into wildlife work, 100%," Vaccaro said.
She grew up not too far away, in the Bitterroot Valley in southwestern Montana, and her first bird banding job was working for the University of Montana's bird ecology lab. She graduated this past spring and hopes to continue studying wildlife biology in graduate school, with a specialization in endangered species, much like her grandmother.
As for Morgan, she has seven years of banding under her belt. She started when she was a college student at the University of North Carolina-Asheville and has been all over the world working seasonal banding jobs since she graduated in 2013.
Bird banding gigs led her to South Carolina, Illinois, American Samoa, New York City, Louisiana, Washington D.C., Maryland and Montana before bring her to Jackson Hole.
Due to the seasonal nature of bird banding jobs, Morgan is constantly searching for her next one. Despite the lack of long-term geographic stability, she's drawn to banding because of the opportunity it gives her to work hands-on with birds.
"Where else do you get to hold birds?" she asked. "It's so wild that you can catch birds and hold them, and it's really interesting how every species is different, from their molts to how you age them."
Wildlife Foundation Associate Director Kate Gersh runs the organization's Nature Mapping Jackson Hole citizen science program and has spearheaded this bird banding project, now in its second year under her leadership.
Gersh is also a self-described "bird bander in training" who has been shadowing Morgan and Vaccaro to learn the skills necessary to, she hopes, take over in a few years.
"You can't have a novice running these stations," Gersh said. "You need someone with a lot of experience."
The last analysis done on the data was around five years ago, and it showed some disturbing trends. Long-distance migrants experienced a serious population decline, and short-distance migrants saw a less significant but still marked decline. Local bird populations appeared mostly stable.
The data collected during the summer season coincides with the migratory songbirds' breeding season. Because the birds are migratory the population trends reflect changes well beyond this valley's ecosystem.
"The health of these species, really, it's not in isolation to what is going on here," Gersh said. "It's based on where they migrate to and from throughout the year."
A measure of ecosystem health
According to Wildlife Foundation Communications Manager Kyle Kissock, tracking songbird populations reflects the status of the broader ecosystem.
"Songbirds are a good bellwether of overall ecosystem health, so if we're noticing declines in songbird populations, for instance, that could potentially indicate that something is happening to the ecosystem that is not good," Kyle said. "On the other hand, if populations are stable we might be able to infer that everything is OK."
Now this summer's findings will be added to nearly three decades' worth of data — an unbroken collection that scientists can continue using to chart the future of songbirds, locally and even globally.