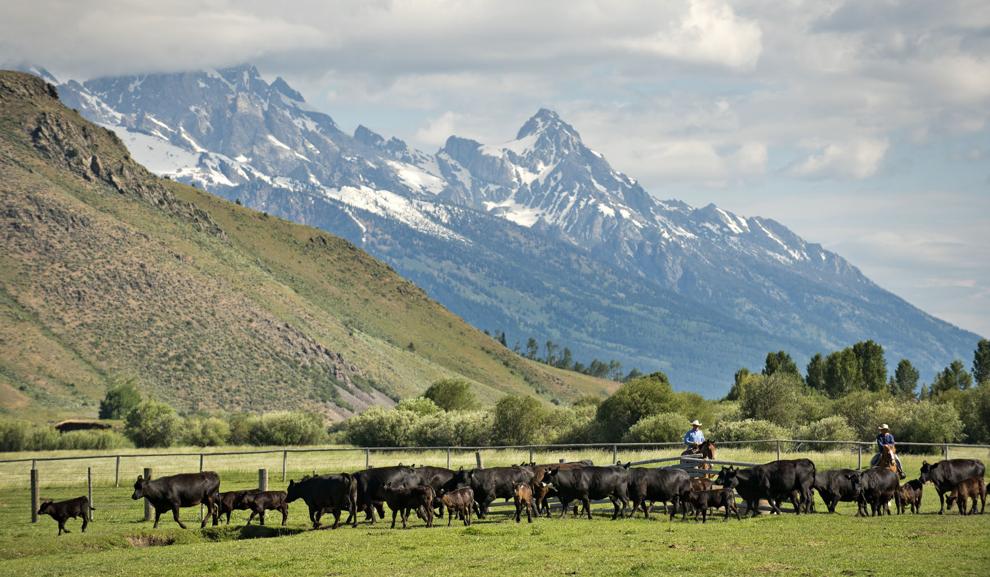 Brad Mead gathers his rope and throws a loop into a group of Black Angus calves.
He misses his mark — the calf's back legs — and reels in his rope. He tries again. Misses. It takes a few tosses to get back in the groove.
Mead and Peter Feuz haven't roped together since they were teens 40 years ago.
"He used to yell at me all the time in high school," Mead says, laughing. "And I'm pretty sure he was getting ready to."
Soon they were back in synch, roping and restraining calves for the final batch of branding at the Mead Ranch in late June.
In roping, if the calf isn't secure, it can run around, making it much more of a rodeo. But once on the ground and secure, the animals remain calm.
"The people who do this well look almost like they're fly fishing," Mead says. "They pick one and it's very non-dramatic."
Brad's wife, Kate, sharpens a knife for castration while ranch manager Olaf Koehler places a hot iron on the left shoulder of a calf, branding the young steer with the ranch's mark, a double T.
A small group of family and friends make quick work vaccinating and re-tagging the calves before a storm rolls over the ranch.
Branding on calf tables — essentially a squeeze shoot the calf is lead into for restraint — has become the norm. But there are still occasions when calf roping makes sense on the ranches, Brad Mead says.
It usually depends on what help is available.
"To rope efficiently and quickly enough so it's practical you have to be in an environment where you have a fair number of people with that skill set," he says.
It's not one many have these days.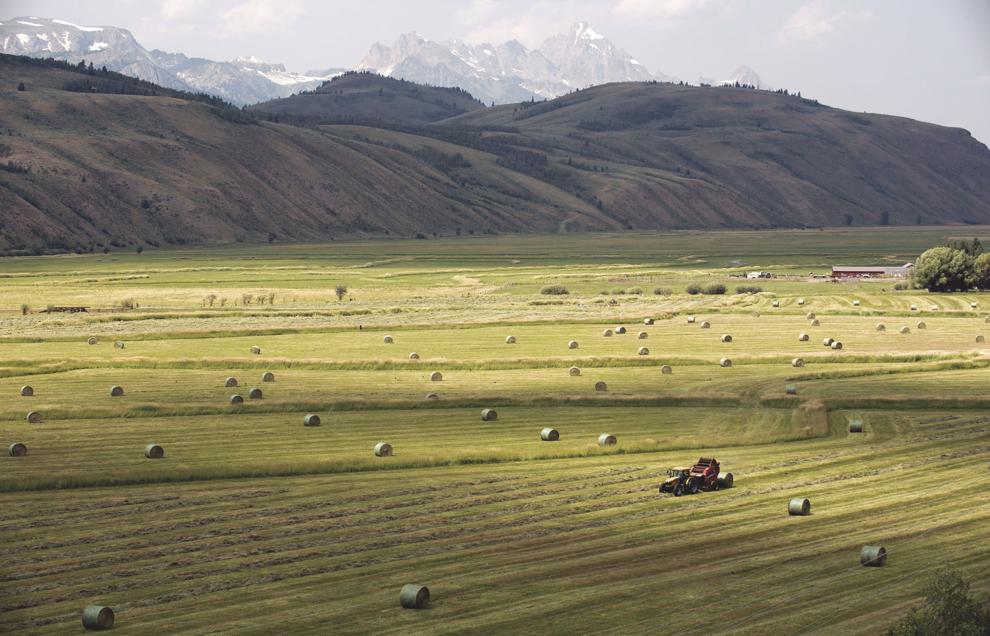 Summer on the ranch isn't glamorous — it's sitting in a hay swather, fixing broke down machines. It's falling into irrigation ditches and taking care of cattle, some of which can be rather unruly.
It's a lot of farming, which is perfect for Koehler, who grew up around dairy farms in Wisconsin and runs the day-to-day operations on the Mead Ranch.
Having been on the ranch for 40 years, he's worked with three generations of Mead family.
"I guess I inherited Olaf," Brad Mead said with a laugh.
It's diverse work, Koehler said. It's same thing every year, yet every day is different.
"Everything is in constant flux," he said.
A new day, a new irrigation channel to divert and field to soak.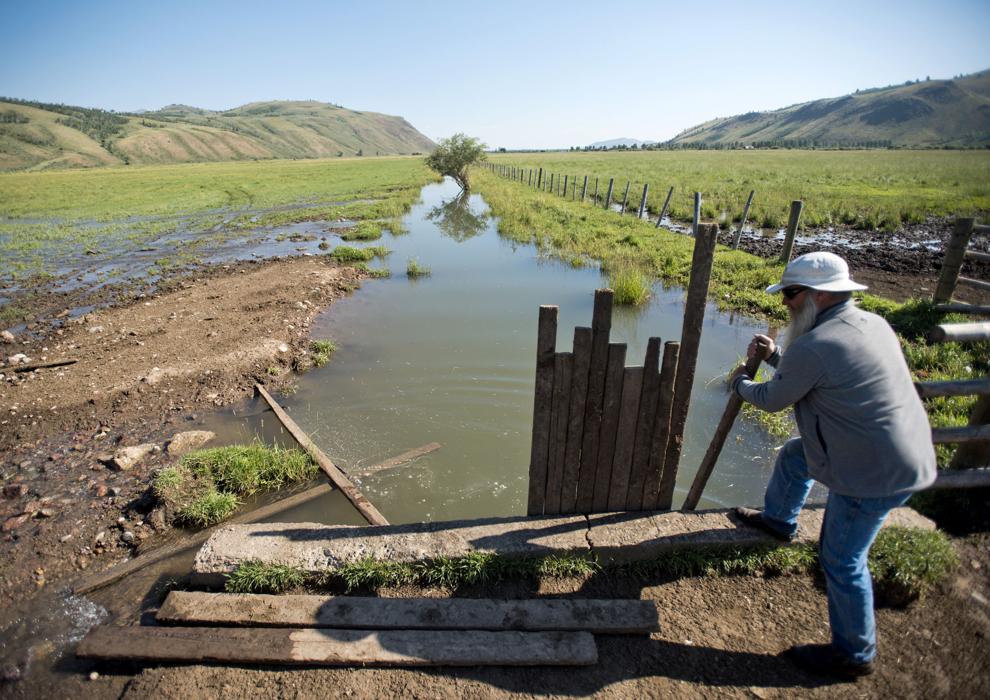 Koehler watches the pastures for flooding and lifts a pile of wooden planks to move to the next channel. He waters the old-fashioned way, with boards and century-old channels from the Gros Ventre River.
"It would be boring to use sprinkler pipe or something," he said. "This has been working for over 100 years."
Once the crop grows to the right height, Koehler and Pat Brennan start cutting down acre after acre, baling the grass into 1,600-pound round bales.
It's an essential part of the operation, not only for hungry wintering steers, but also for the health of the pasture.
"Otherwise the cows trample it down and they don't get anything out of it," Koehler said.
This way, he says, they'll have better pasture to graze later in the year.
In the winter Koehler trucks the cow-calf pairs about 200 miles east to Kirby to graze. The winter is much milder there, Brad Mead said, and helps reduce the risk of the herd contracting brucellosis from migrating elk. They'd also need supplemental feed if they stayed in town, he said.
The cow-calf pairs roam open pastures and eat a diet of grass and hay, while the steers are finished with spent grains from local breweries. Within a few days, the 1- to 3-year-old steers have put away a thousand pounds of grain, sometimes 2,000 pounds.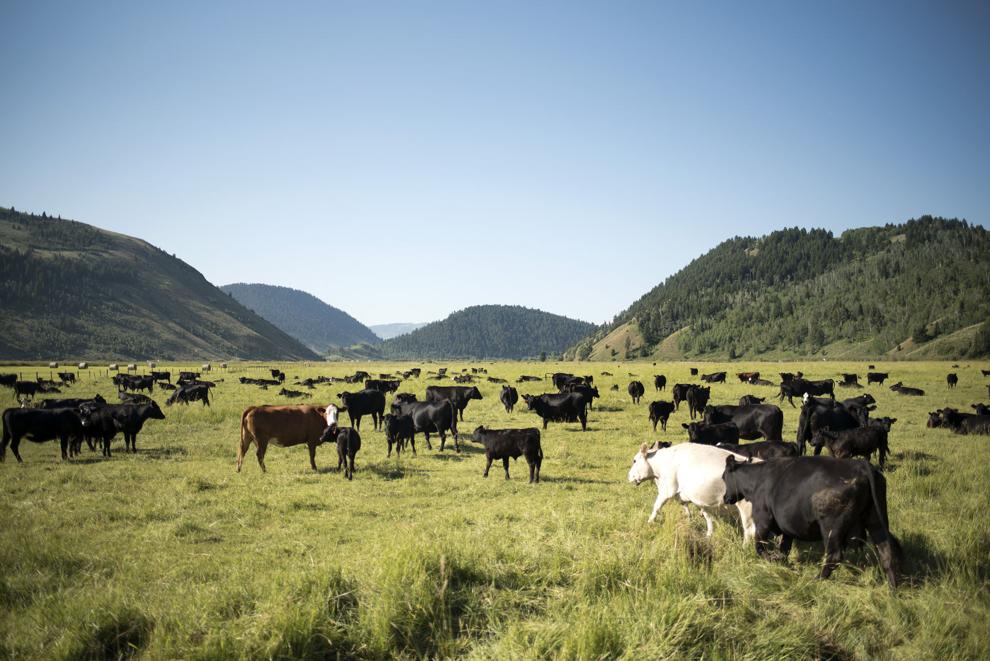 The beer by-product is in high demand for hungry cattle.
"It's kind of the focal point of our operation," Koehler said.
It's also an essential sale for local breweries like Snake River Brewing.
"There's a constant flow [of spent grains] and for small breweries you have to find a place to send it," Director of Brewing Operations Chris Erickson said.
One of the first steps of the beer making process is mashing: adding hot water to malted dry barley grain. The starches convert to fermentable sugars and leave behind protein making the grains a "nice high protein feed," he said.
During summers the brewery produces up to thousands of pounds of spent barley every day.
Other farms and ranches have used the brewery's by-products in the past, but the Mead Ranch has a unique relationship — they sell beef to the brewpub's restaurant.
"We're suckers for the full circle story," Erickson said. "To have it come back as a burger in the restaurant is awesome. It could go to someone else and we would never see the end of it."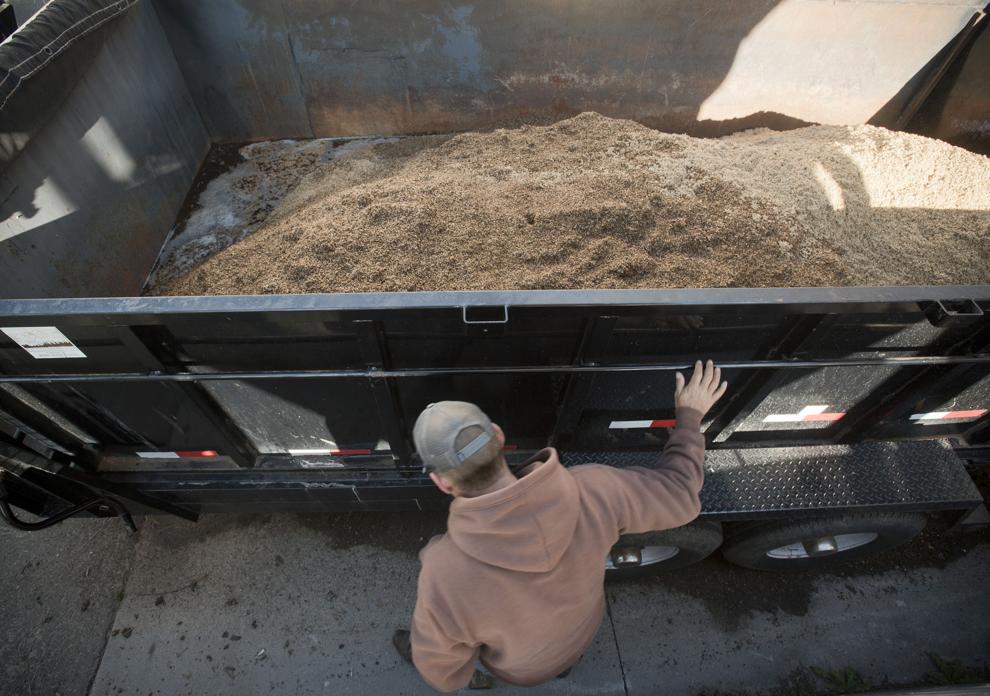 The steers are fed from a makeshift wagon in the summer, but come winter the crew is forced to trudge through snowy fields to feed. Usually a tractor is used, but there's also a team of draft horses on hand for when machines fail in sub-zero temperatures.
The animals weigh between 1,200 and 1,400 pounds by the time they're processed, usually when they're a little over 2 years old.
It takes longer to finish than if they were in a feedlot, where steers are typically processed around 18 months.
"We don't try to stuff feed them," Koehler said.
Dale Woerner, associate professor in Colorado State University's Center for Meat Safety and Quality, said cattle can only eat so much of the alcohol by-product.
"They have to be limited in some degree in the animal's diet," he said. "They provide a significant amount of satiety, or a feeling of fullness, for the animal."
With the cellulose component of the barley gone, what's left is fat and protein — a combination that leaves cattle feeling fuller than if fed a high carb diet, Woerner said.
Balanced with roughage, like done on the ranch with summer grazing and supplemental haying in the winter, the diet works, he said.
"We're giving them a higher plane of nutrition," he said. "As a result they are able to fatten and marble more readily and that's the flavor profile that the majority of American's prefer.
Plus, the steers love it.
"The animal prefers the flavor and texture," Woerner said. "They really like the spent barley and corn from the alcohol industry. It's very palatable for the livestock."
The Mead Ranch was one of the first in the valley to start selling local beef to local consumers, a vision dreamt up by Kate Mead.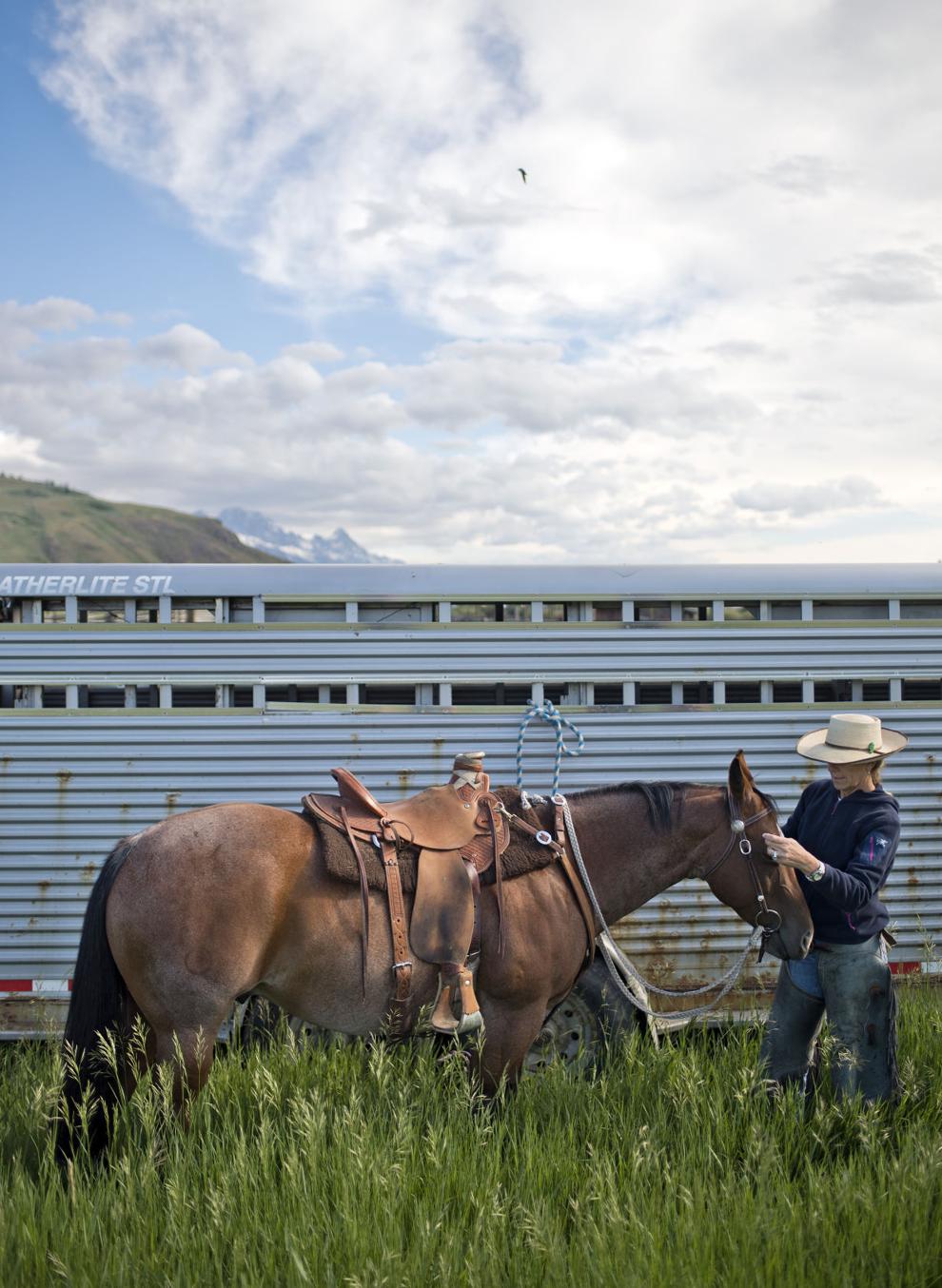 "One good thing about marrying someone who didn't grow up on a ranch is they look at things and ask, 'Why don't you do this?'" Brad Mead said.
It started when a local restaurant, Snake River Grill, started looking to use locally produced beef. But the demand was only for certain parts of the cow, challenging Kate Mead to figure out what to do with the rest of the carcass.
"In order to sell anything you have to sell the whole thing," she said.
In 2002, she started selling ground beef at the Jackson Hole Farmers Market in addition to the deals she made with a few restaurants.
She bought a couple steers from her husband's herd to start one of her own, a herd to be raised in Teton County. She still buys steers from her husband, but at increasingly higher rates every year. Thirty-five percent of the ranch's calves are sold to the local beef program — and growing.
"She's a big customer of mine," Brad Mead said.
"I'm his best customer because I'm there every year," she added.
The idea of selling local beef wasn't really mainstream 15 years ago, but Kate was committed to trying it out.
"I hoped people would come around to wanting a local product," she said.
But when she first started out, even some of her friends were worried it wouldn't taste as good as store-bought meat.
"It was such a weird way of thinking," she said. "It took a long time — this local food movement has been, really, a long cultural shift."
Everything is slow going in agriculture, she joked.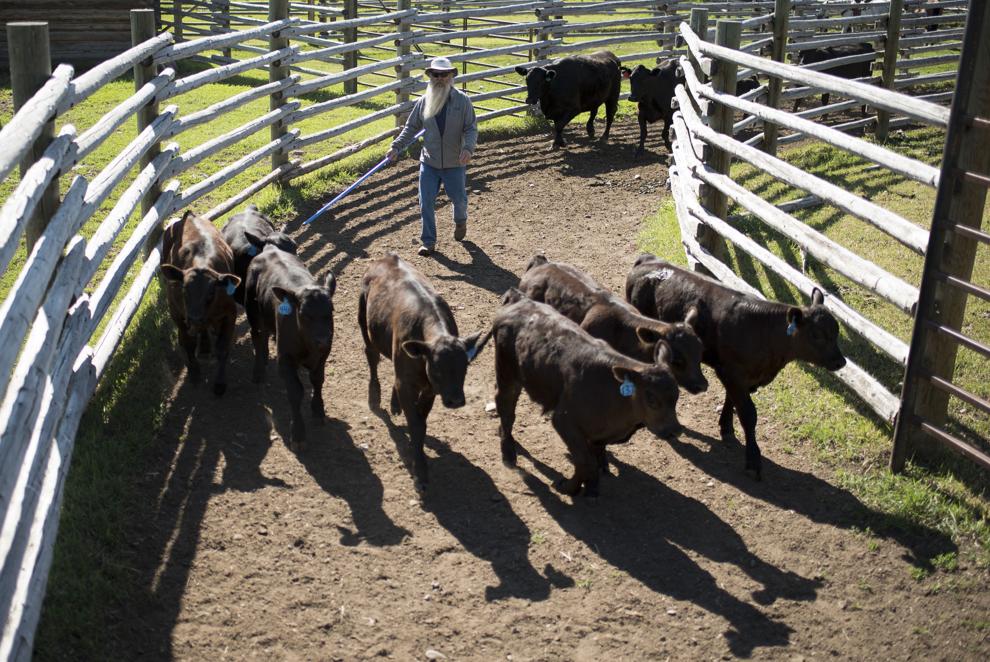 "It's been 10 or 15 years since people have started to see that it's probably better from every standpoint — from your carbon footprint, to knowing what your cows are eating and who's raising them," she said.
Kate Mead looked at the historical changes in the cattle market before launching the local program, she said.
"Cattle markets dramatically changed between the first and second world wars, when they really were trying to produce and get a lot of food fast," she said.
Before that almost every town had its own slaughterhouse and butcher shop.
A national demand for more meat gave way to the feedlot model, where growers could produce more cattle more efficiently than a small shop.
"People started [sending cattle to feedlots] and the meat packers started to really run the industry," she said. "And the little abattoirs [slaughterhouses] in each town started closing down, they didn't have enough work."
It was easier for ranchers, too, she said. They only needed to raise calves until 8 months old.
But since the local food movement arose, it's started to make sense again to raise and sell cattle from the same place.
"She felt like it was more rational to have beef that's consumed locally be raised and live here locally and processed locally," Brad Mead said. "It made more sense than shipping it to Kansas and having it go on antibiotics in a feedlot where they're jammed full of feed."
The push was also driven by economics — local beef adds value to the product, garnering higher profit margins.
However, cow and calf producers generally don't have any control over the cattle market, said John Ritten, associate professor in the University of Wyoming's Department of Agricultural and Applied Economics.
It fits with the economic theory of general competition, he said: individual producers retain little market control when there are a lot of producers in the market.
The price of cattle follows cycles due to fluctuations in national numbers, and total market supply. The market is currently seeing historic highs, he said, but most people think they're rock bottom, Ritten said. 
"They are coming of historic highs," he said. "So the lows aren't really that bad in the context of where prices have been over the last 30 years."
Direct marketing — selling locally — helps producers adjust for market lows and stabilize fluctuation.
"You're diversifying, which is never a bad thing," Ritten said. "It's a way of income smoothing — taking advantage of the market you can when they're up, but not excluding yourself from the other markets."
By selling locally, Kate Mead was hoping that they would have a more stable income to balance out when the traditional market is low.
"It's really hard to run a business of any kind when every fall you don't know what you're going to have for money for the whole next year, even if you sell them all," she said.
Cattle — in the traditional market — is sold by the truckload. If a rancher sells all of their calves at once that's one payment.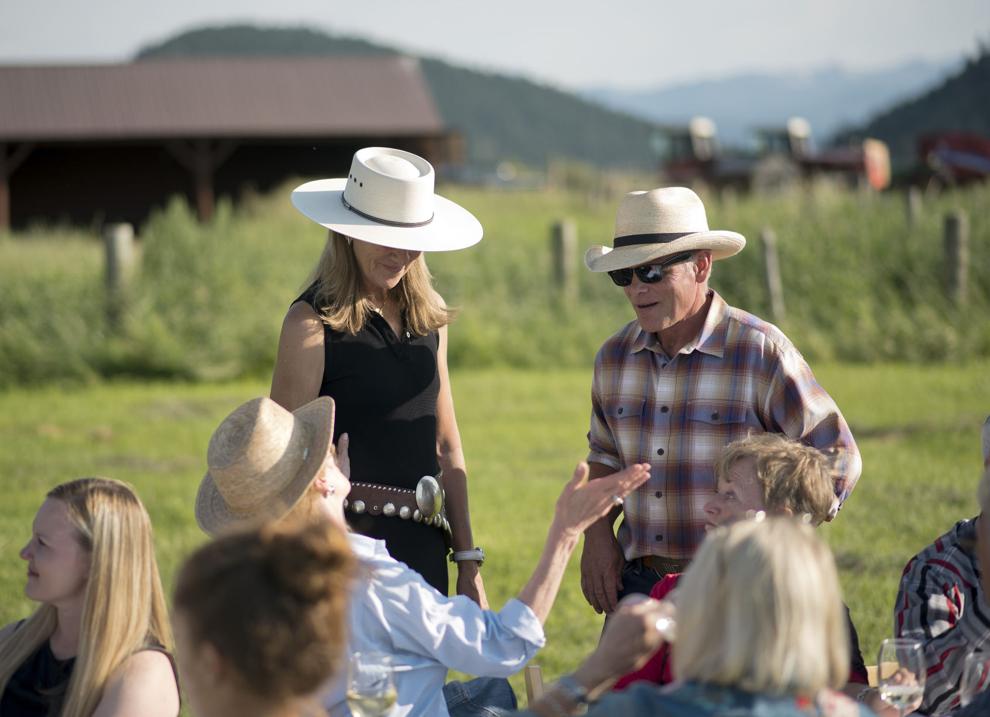 "When we sell our calves we get a check — one check a year," she said. "I had also hoped that if it took off it could be a more regular income source."
It took off. And now the experiment has become an established business venture reaching into restaurants, butcher shops and, still, the Jackson Hole Farmers Market.
"At the beginning I really described it as 'her idea,'" Brad Mead said with a laugh. "But as it started to work pretty well I've described it as 'our idea.'" 
Koehler sits at a table inside Pearl Street Bagels, just like he does almost every morning.
The girls behind the counter know his order by memory: a coffee and everything bagel topped with olive cream cheese, tomatoes and cucumbers.
Brennan and Alex Boehm join him before the three head to Snake River Brewing for their daily grain pick-up. But not before they chat with the flow of customers coming into the bagel shop.
"This is our big social event of the day," he says.
Once at the brewery, it's a simple process — grains are dumped into a trailer attached to the ranch truck.
The feed is so integral to the ranch's operations that Koehler jokes "we would probably stop raising steers" if Jackson stopped producing beer.
They drive three miles back to the ranch and shovel the grain into a rickety wagon, before heading toward the other side of the property.
The steers anxiously wait near the gate. When they see Koehler coming, it's mealtime.
"They come running," he says. "They're really enthusiastic about it."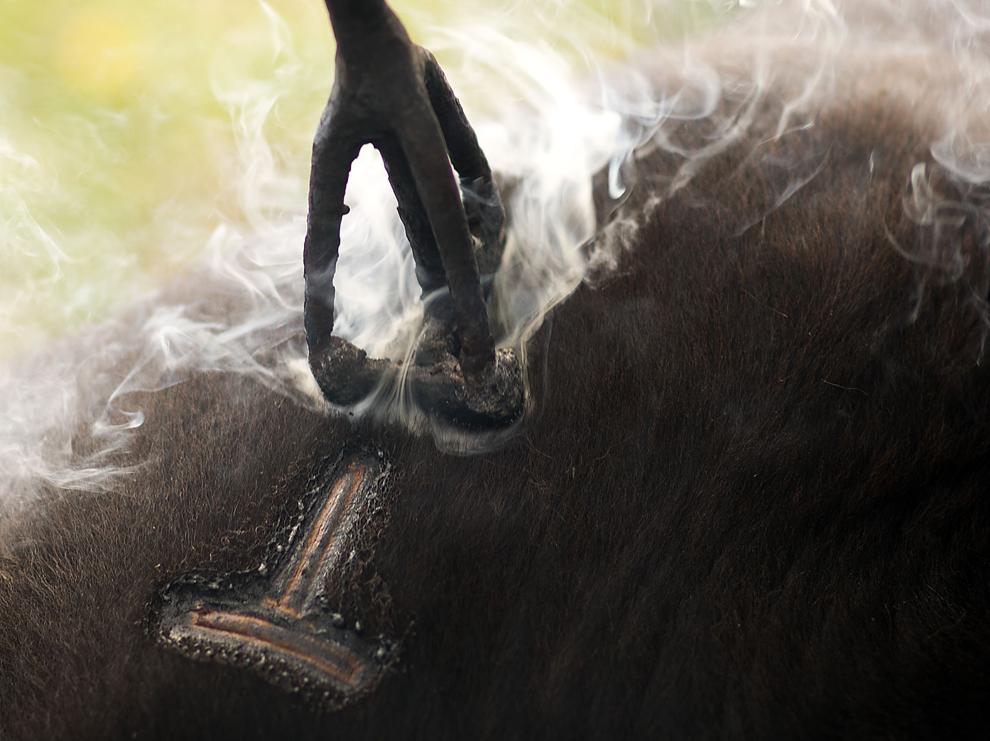 Read more from the Calf to Case series: