I'd never had an animal in the crosshairs before.
The herd hadn't heard us stalk up the backside of the hill, ducked down so our profiles wouldn't peek over the crest. We had crawled through the dirt, damp from a melted dusting of snow.
It took time for me to find the pronghorn my partner, Crystal Gibson, had spotted — "glassed," as I'd learned it was called. I scanned the field, staring intensely through the scope, feeling my throat tighten. The chosen buck appeared in the crosshairs.
He was lying on his side, hooves tucked in, lazily chomping on grass, dozing on and off.
I stared at him, the center of the crosshairs fixed on the white fur directly behind his shoulder.
Take a deep breath and exhale slowly, I heard Bud Stewart say in my mind.
Stewart had been by my side the day before, Oct. 10, as I sighted in my loaner rifle, a .243 Thompson/Center. The retired Wyoming Game and Fish information and education specialist — the "Mark Gocke of the Sheridan region," as it was explained to me — had been volunteering for the Wyoming Women's Antelope Hunt for years, helping women learn and perfect their rifle skills at the sighting tent.
"I can't see well through these glasses," I confessed as I awkwardly handled the rifle I'd never shot before.
Nearly everything about my participation on this hunt was on loan — the rifle, the camo, my spot in camp. I'd written for a scholarship to the event through the Wyoming Women's Foundation, asking for a chance to learn how to hunt.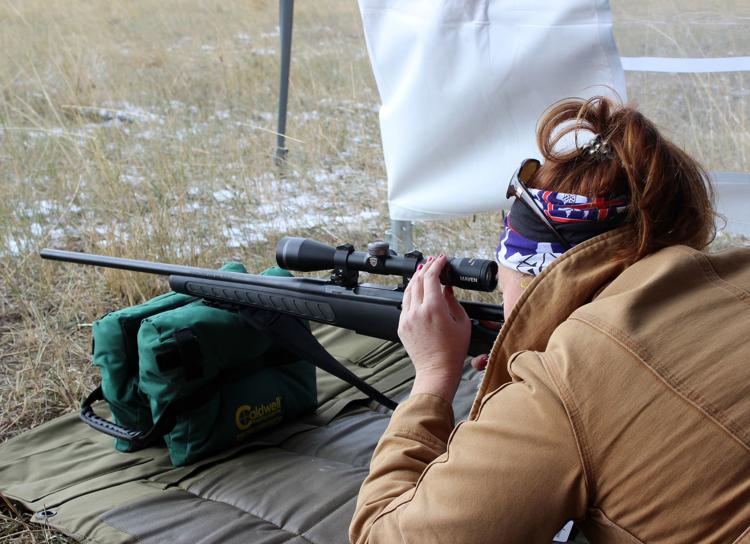 Stewart quietly suggested I ditch the plastic eye protection.
"You'll be able to see better," he said.
I made a tight grouping on the 100-yard target. I'd shot previously — handguns and a shotgun, once. I had taken Hunter Safety the previous fall so I had a sense of the components of the weapon I was holding, but theory is different from practice.
As I focused on my paper target I registered pings popping off an orange metal mark up the hillside.
"Could I hit that?" I asked. "It seems so far away."
"Give it a try," Stewart said.
Take a deep breath and exhale slowly, he said, as I gently pulled the tip of my index finger back.
"Make it ring," he said, moving back to stand with the men poised behind binocular stands.
I tried not to anticipate the sound or recoil, always the issue I faced with handguns. Guns are loud, and the kick can be significant. Sometimes I closed my eyes, an unconscious habit I'd been trying to break.
I looked through the scope, wondering what it would it be like to point this at an animal.
Deep breath in, long exhale. With the rifle braced snugly against my right shoulder, the butt against my cheek, I pulled the trigger. A ping rang out, and the target swayed. A cheer broke out behind me.
"You don't have to do anything you don't want to," Gibson reassured me. "If it's not right, it's not right."
She'd been helping set me up for the past 10 minutes, pushing her backpack into place to steady the rifle.
The gun felt awkward against my shoulder as I strained my head up to look through the scope. She noticed my discomfort, asking if I wanted to move closer.
We crawled forward on our bellies, sagebrush and rocks stabbing our thighs. I bit the glove on my right hand, pulling it off my hand and settling the gun against my shoulder.
I thought about the day before in a field nearby, where I crawled in the dirt alongside Fred Williams, stalking a paper cutout of a pronghorn.
"See him?" he had asked. "We're going to sneak up on him."
Confidently handling the rifle slung over her shoulder, Kelly Reisdorf suggested I walk behind her in a line, a technique that keeps our movement streamlined and more difficult to see, she explained.
As we walked up a small hillside, she ducked down, stomping through the grass in platform Sorels.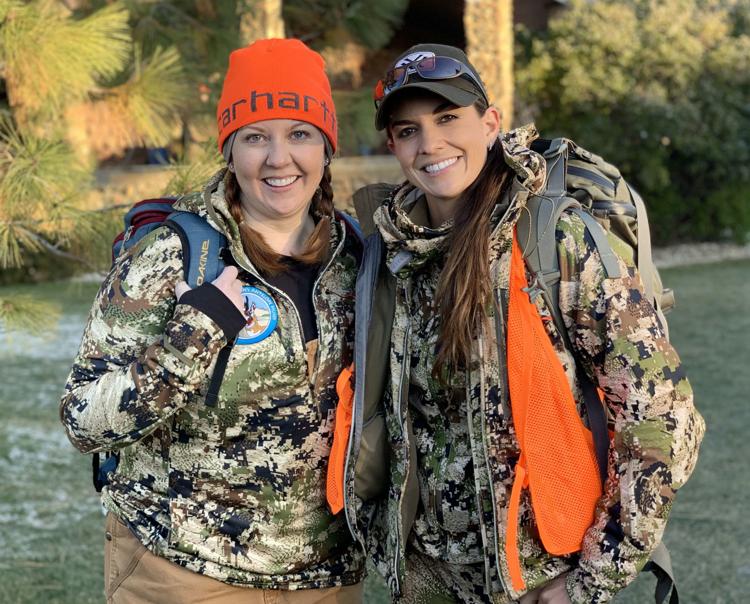 "I didn't know we'd be doing this today," she whispered, smiling.
I bumbled with the unloaded rifle as we crouched and crawled. But that was the point of the exercise — to learn how to handle the weapon as we crossed barbed-wire fences and slithered through sage.
Williams pointed the path we would take, and explained our stalking technique. We were to crouch and hold onto one another's waists so as to appear like a stock animal.
I raised an eyebrow. Williams has been on the Hunt Committee since the Wyoming Women's Antelope Hunt started seven years ago and has guided every year. This must be some sort of initiation. I glanced sideways, looking for a long-lens camera.
Pronghorn can't count, he said, but they do understand shapes. We look less human crouched over and walking like a cow, even if it's a six-legged one. We got into position and continued meandering toward our paper target.
Once in position we broke apart and Williams and I scrambled up a small hill. Here we'd practice shooting from a cross-legged position, the rifle braced against my thighs. It took awhile to get into a position where I felt the recoil wouldn't send me rolling backward.
There were no bullets to shoot, just a simulation this time. But he was confident I made a good shot.
Gibson shushed Jay Presti, who was wiggling around in the dirt, straining to see through the viewfinder of a camera.
"Let me know when she's going to shoot," Presti said. "I want to make sure I'm filming."
Gibson and Presti were the first two people I met when I arrived at the Ranch at Ucross near Clearmont. Having arrived before the foundation staff was ready to check in hunters, I was directed to the Ranch House, where hot coffee and tea were waiting.
Gibson stuck out her hand, offering a firm handshake with her introduction. She was there with her fiance, Presti, shooting an episode for their show, "Blue Collar Adventures." Though Gibson is usually behind the camera, this episode she'd be in front, telling the story of the hunt.
We were quick to bond, chatting about her mini Aussie that burly hunters were quick to make fun of until they realized the little dog was an expert "horn hunter," a trait Gibson had taught the pup. She showed me pictures of her horse, and we laughed over a short clip she filmed of a badger she'd shot waddling out of a drainage pipe.
The hunt is set up to place participants in groups of three: novice hunter, experienced hunter and guide. After sighting rifles and field exercises on the first day, we head down to a white tent for a dinner that revealed who we'd be hunting with and on what property.
Gibson and I were paired, which seemed auspicious. It also meant my whole adventure would be filmed, starting at 7 a.m. Friday morning, when Presti held up a camera and asked how I was feeling.
I didn't know, and I can't remember what I said. Maybe I'll find out when the episode airs (sometime in 2020, I'm told).
I had been preparing for this trip since this past spring, when I wrote to the Wyoming Women's Foundation, asking for the scholarship.
"I got interested in hunting sometime in my 30s," I wrote in my application.
"I suppose it partly sprang from thinking about my food, particularly where it comes from and how to be a more conscious consumer. But the interest has also grown from reading the history and traditions of the West — a place I grew up — and the tough women who homesteaded these lands. There's something really intoxicating about independence and self-sufficiency, and that feeling that you really can accomplish anything.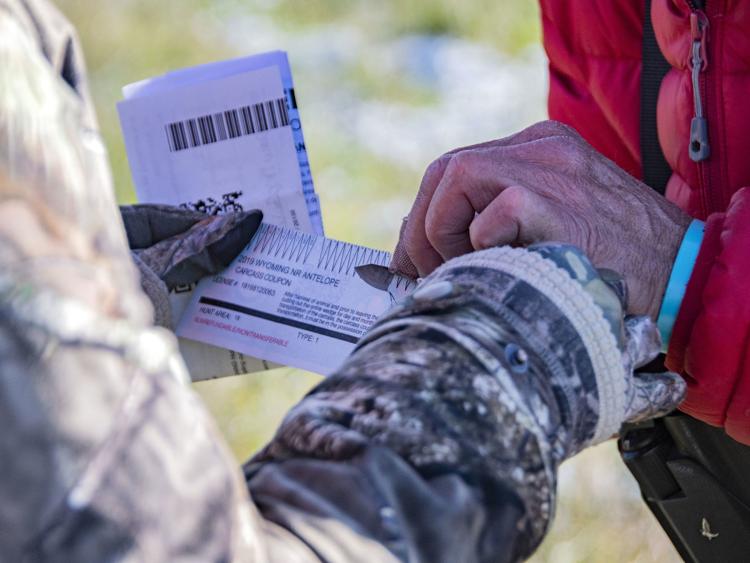 "Hunting seems to be a sport largely passed down through families, usually from man to man. If women pick it up, it often comes from their father or grandfather, a boyfriend or spouse," I wrote in my application. "But my grandfather stopped hunting before I was born, my father never picked it up, and there's a part of me that bristles at feeling that I have to learn it from a partner. Isn't there another option?"
My biggest inspiration for applying was Shelley Simonton, a woman I never met in person. I spoke with her for an hourlong phone interview about a bucket-list trip she was taking after she received a terminal cancer diagnosis. A few weeks later I wrote her obituary for the Jackson Hole News&Guide.
Despite having never met her, I often think about Simonton. She didn't speak a lot about all the things she had done for Wyoming and for women, but her friends and family did. One of her crowning achievements was to help establish the Wyoming Women's Antelope Hunt (alongside Marilyn Kite, the first female Wyoming Supreme Court justice. In any conversation had over the hunt weekend, Kite is revered as the "mother of the hunt.")
When I found out I had landed a spot as one of 46 novice female hunters, my attention turned to wrestling with taking a life.
I've always loved animals. Our family always had dogs, and I seemed to find a way to keep rabbits, hamsters and mice in the mix as I was growing up. I rode horses as a child, and worked as an associate editor at Western Horseman magazine for two years, traveling around the West writing about them. For a long while I debated a career in veterinary medicine, and I left journalism for a stint to pursue a master's in animal shelter management — a move that I planned to pair to with a doctorate of veterinary medicine.
Ultimately I missed journalism and came back to writing, but the point is, animals are important to me. I'm the type of person who insists on having her dog sleep in her bed, fur on the comforter be damned.
I had been drawn to growing and harvesting my own food for the past few years. I landed a community gardening plot two years ago and have been experimenting with growing veggies and plants for teas. I've talked and talked and talked about hunting with family and friends, building my desire to harvest my own food.
Though intellectually I liked the idea, there was still a real possibility I wouldn't be able to pull the trigger. I've seen dead animals, even dissected them in a necropsy course at Colorado State University. But I'd never killed something myself, at least, not a large mammal.
But my biggest worry wasn't killing the animal — a well-placed bullet would nearly ensure a quick and painless death — it was not killing it immediately. What if I only wounded the animal with a bad shot?
It was one of the questions I posed to my guide, Mike Rodriguez as we were driving around Friday morning.
"You won't," he said. "I won't let you."
"I'm going to cry," I said.
That was one of the first statements I blurted out to Rodriguez when I met him at the dinner table Thursday.
"That's OK," he reassured me.
He has daughters who hunt, he said. He keeps tissues in the truck.
I stared at the pronghorn, sleeping with his head tucked over his heart.
In his current position I couldn't shoot. I'd need to wait.
He looked peaceful, content. Even while dozing he munched on a mouthful of food.
He moved his head forward, leaving his left side exposed.
"I'm ready," I said, breathing in.
I exhaled and started to move my finger, focused on the center of the crosshairs. I moved so slowly I wasn't sure I had pressure on the trigger. Maybe I wouldn't actually shoot.
A crack rang out. I looked up, then peered through the scope to see the pronghorn lying on its side, dead.
"You did it!" Gibson said.
Presti was already on his feet, filming.
"How do you feel?" he asked.
I put my face in my hands and burst into tears.
Rodriguez, who was stationed just a few yards behind me, leaned over to give me a hug.
"I'm just so happy I killed him with one shot," I said, still kneeling.
I had made a deal with myself that if I hunted an animal, I had to be prepared to deal with what came next.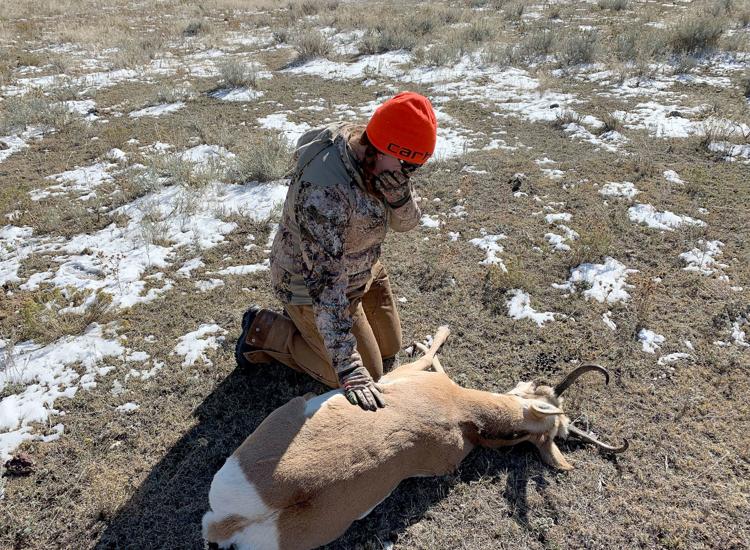 After climbing down the hill to get to the pronghorn, I couldn't help but tear up again. I'd never seen one so close, never known they have black tongues or a mane along the back of their necks. I examined the buck's long eyelashes, his big eyes, his horns.
I found myself petting him, as I used to do with animals we had to euthanize in the clinic. I didn't feel guilt, but I felt grief. As with the animals in the clinic, I said goodbye.
I talked a lot about photography of hunted animals with Kathryn Boswell, my roommate for the weekend. Boswell, Wyoming Game and Fish hunter and angler participation coordinator, had been a part of the Wyoming Women's Antelope Hunt since its inception and had been in the field many times herself.
"I just don't like trophy photos," I told her.
I'm uncomfortable smiling next to a carcass. From where I was sitting at that point, admittedly having never hunted, it felt disrespectful.
Boswell addressed photography in orientation, telling hunters they were in charge of how they told the story of their hunt. Some people wanted traditional framing, a proud photo with the animal and the rifle that was used to hunt it. Others preferred detail shots — hands on horns, a close-up of hooves.
It was a small thing, superficial, but something I thought about a lot.
In the field I still wasn't sure how to capture the moment. Presti suggested trying everything and then deciding what to use later. I have a few of the traditional shots, but I generally hate them. I felt the same in the field as I anticipated I would.
My favorite photo is one of me crying next to the animal. That's what I remember most vividly, and that's the image I'm OK to carry with me.
Rodriguez taught me how to gut the pronghorn, a process I had done before on cows and sheep in a classroom setting. Processing the buck myself was a crucial transition. He started to become different — hide and meat, entrails and hooves. I began to see him differently — still an animal, still a "him," but no longer a being. Though, I admit I quietly whispered, "Goodbye, handsome," as he was hoisted onto the bed of the truck.
The following day he was brought to the "meat pole," a place where the carcasses were strung up, skinned and readied for butchering.
The image of carcasses hanging lifeless in the predawn fog was jarring. The day before, Gibson and I had talked about that scene, what it's like seeing animals in production.
She handles it, she said, by thinking back to times when such a sight meant enough food for winter. These animals gave their lives to put meat on our tables, and they are gifts to be honored and celebrated.
On Saturday morning I walked over before sunrise and stood alone at the meat pole, examining the carcasses. It's an image that has stayed with me.
I asked to skin my own animal. I decided I wanted to keep the hide and the skull, neither of which was unique or particularly impressive, save to me because it was the first animal I'd killed.
Rusty Bell, owner of Rusty's Taxidermy and a Campbell County commissioner, handed me a knife and showed how to remove the hide with minimal damage to it or the meat. My cuts were tentative, as they had been the day before gutting the pronghorn in the field. Experienced onlookers let me work at my own pace.
Bell removed the head, and I skinned the skull with a scalpel, paying attention to the instructions I was given to cut carefully around the horns. As the hide came free from the muscle, the animal continued to change, become a product. The emotion that rose up when I saw him as a living being no longer stirred. I said my final goodbye as the skull was placed in a plastic bag.
I picked up the processed meat Sunday from Big Horn Meat Cutting in Buffalo.
I wanted to carve the carcass myself but I also wanted to trade some of the meat I'd harvested for other wild game. To do so the carcass needed to be processed at the shop.
Women at the hunt told me I'd feel different about this meat, that I'd appreciate it more. There's a certain pang of guilt that arises when I throw out food that has spoiled sitting in my fridge, be it vegetables or packages of meat. I asked the best way to pack it on dry ice for the drive home, and how to store it. It was the first thing I brought in from the car, rearranging the contents of my freezer to accommodate the meat.
I sampled the jerky first, knowing I've liked any game jerky I've had. I'm pretty convinced anything tastes good with enough spice. My last hurdle in the process is preparing the meat. I haven't had antelope before, and I've heard the taste can vary. I have a good chance of having great meat — my pronghorn was not stressed at the time of kill, was processed quickly in the field and was hung outside in a cold environment. I was careful in my transport and handling since I got the meat home.
I just pulled out a pound of ground meat for antelope tacos, still leaning on the spice theory, I suppose, and also confident I can cook ground meat. My mentors at the hunt were right: I do feel particularly protective of this meat. I don't want to waste any of it.
Though the point of this adventure was to harvest a pronghorn, the animal was only one part. Lying in a field next to a new friend is something I will always cherish. Having hours in a truck cab with a guide who has spent most of his life living off the land was invaluable. I've already made plans to see my roommate again, and I'm hoping to learn to shoot a bow from an archer I met at the hunt.
I, along with other women who harvested their animal with one shot, received the Annie Oakley Award, an accolade that honors making a quick, ethical kill. We were given rings as a celebratory gift. I've been wearing mine a lot. While the ring commemorates one hunt, to me it is a talisman that brings me back to the four days I spent in Ucross. I can't imagine I'll ever forget the women, or the experience, for the rest of my life.