"OK, everyone, we're going to play a game."
Program Director Nealy Angell mostly held the attention of the children circled in the Jackson Hole Therapeutic Riding Association barn. Morning rain had pushed them inside for their warm-up activity. Angell held a rubber kickball plastered with images of farm animals.
"When someone hands you the ball, you're going to run around the circle and make the noise of one of these animals," she said. "Then you're going to hand it to someone else."
As the children and volunteers at Strides Day Camp sprinted through the soft dirt of the arena, laughter ensued, along with all manner of hee-haws, clucks, oinks and, befittingly, neighs. Outside the circle, Kai Andraca scooped handfuls of dirt and threw them in the air.
"What did we talk about Kai?" Outreach Coordinator Adriene Hendersen asked.
She drew a box in the dirt outside the cacophonous circle.
"This is your boundary," she said. "You can do that, but only if you stay inside this."
The scene was akin to the start of any day of summer camp, an icebreaker designed to burn the energy of the rambunctious ones and pull the shy ones from their shells. But Strides isn't just any camp: It is a new program from the Therapeutic Riding Association, a camp for kids with disabilities that centers not on therapeutic development but on letting them be kids, with art and horseback riding as the focus.
"These are all kids who ride with us," Executive Director Tori Fancher said, "and we had parents telling us they go to Salt Lake City to find a summer camp that can accommodate their kids."
Fancher and her staff recognized a gap in programming for kids with disabilities: nontherapeutic options. Therapies have expanded in recent years, with equine, occupational, behavioral and others available even in rural areas like Teton County. However, fun opportunities that provide the kind of support kids with disabilities need are few and far between, except in large urban centers.
For kids like Kai, whose behaviors might be seen as disruptive in a traditional population, that can mean they go without. But the association, with its vast network of volunteers, can offer programs like Strides with a near 1-1 adult-kid ratio. That gives the camp leaders the ability to meet each child's individual needs, rather than tailor the day to the majority.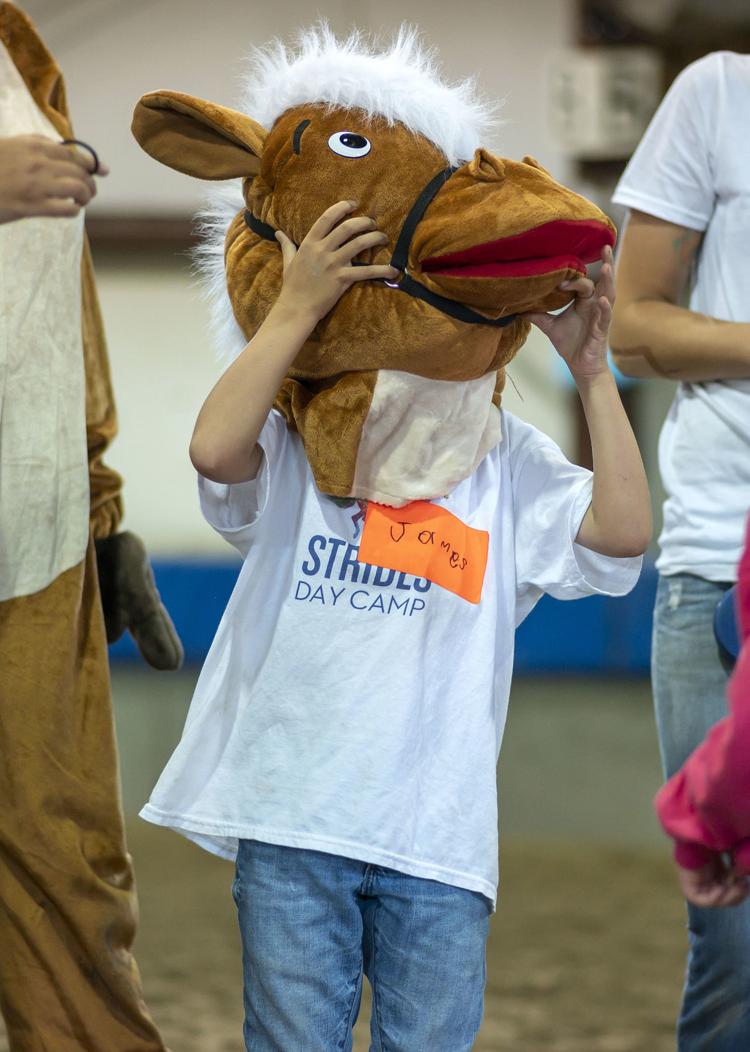 "I have kids that go to the other camps in town," said Amy Kuszak, whose daughter Ellie was in the Strides camp. "I wonder if someday she'll be at the point where she can jump in. The Strides camp was perfect for her because it was catered to exactly what she needed."
Ellie had a stroke either in utero or when she was very young, which affected her vision and spatial awareness. Her eyes don't work in tandem, the way most people's do.
However, like all kids, she likes to run around and play with her friends and participate in sports like soccer and gymnastics.
The last morning of the camp, Ellie sat next to Billie Harrington, a teacher with the Art Association of Jackson Hole, which partnered with Jackson Hole Therapeutic Riding to put on the camp. Harrington cut cardboard rectangles to build a stable for a brown horse figurine, which they christened "Chocolate." Though Ellie moved slowly, she pieced the stable together and added a foot to Chocolate because the horse was missing a hoof. She was practicing fine motor skills, even though the camp wasn't specifically designed for that.
Camps like Strides go beyond providing opportunities to play. Studies say kids with disabilities should be mainstreamed in classrooms at school, meaning they shouldn't be separated from peers who do not have disabilities, said Mark Bittner, director of the University of Wyoming's Early Care and Education Center. However, studies have also found camps like Strides that segregate kids with disabilities can have profound effects on their confidence and sense of belonging.
"Camp experiences provided a reprieve from disability isolation often felt in their home communities," says a 2005 study from the Adapted Physical Activity Quarterly on segregated disability summer camps. "The campers experienced increased self-reliance, independence, and new understandings of their physical potential."
The study, though it was small, with just eight participants, found the kids, who were ages 14 to 18, experienced therapeutic benefits simply by participating in the camps. The study participants expressed more empathy toward themselves because they spent time around others with disabilities, something that is not always possible in a mainstream classroom.
An understanding of disability helps children, even younger ones, like the Strides participants, who may not be able to articulate it, comprehend their own situations better and realize many people deal with some form of disability, even invisible ones. The 2010 U.S. Census Americans with Disability report found that 19% of Americans deal with a disability. It divided disabilities into three categories — communicative, mental and physical — and stated that many of them are not always apparent.
That holds true for Ellie Peterson, a Strides participant, who is gregarious and social.
"OK, we need to build a big stable for this horse," she said, holding another figurine and directing the art teachers and her peers. "And then we need small stables for the other ones."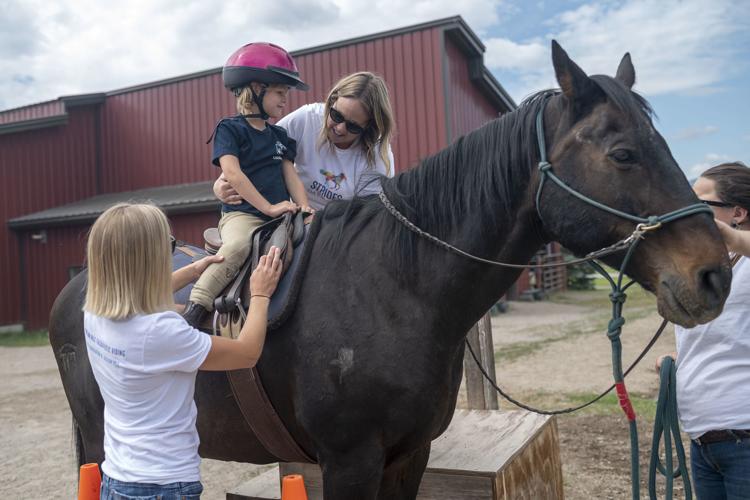 She doesn't fit the standard conception of having a disability, but hers can be just as crippling as ones we can see, said her mother, Samantha Peterson, a preschool teacher in Jackson. Ellie has an anxiety disorder and is a perfectionist, so she often won't try things she feels she can't do exactly as she wants. Because she has social skills, Peterson said, people often think she doesn't have a disability or she should "be able to handle it."
"She loves being around people," Peterson said, "but sometimes her anxiety comes in and she's the kid crying in the corner."
Children like Ellie might be completely capable of handling a traditional summer camp, but parents still worry that if something goes wrong the counselors won't be equipped to help. For Peterson that worry is compounded because her other two kids, Timmy and Lizzie, also have disabilities, which makes finding a camp that accommodates their needs nearly impossible. Peterson lives in Star Valley, which adds to the scarcity of tailored programming.
She said services for kids with disabilities, except for those labeled "severe," are basically nonexistent in Star Valley, so she has to travel to Jackson or farther to find options. Their doctor is in Idaho Falls, which is considerably closer than some that are in Salt Lake City or Seattle, and for therapy or activities like Strides, she has to drive at least to Jackson.
"I'm a single mom, so my kids don't get to do those activities," she said. "They get put in Girl Scouts or choirs, but usually they just go without."
Camps like Strides that all her children can go to are generally unavailable to Peterson. The benefit of dropping all three off at one place and feeling confident that they will be taken care of is not lost on Peterson, or her kids.
"They had to get up at 4:30 in the morning to drive up the canyon and come to school with me," she said. "They were exhausted, but they absolutely loved it."
Community and individual development aside, Strides is about three things: art, horses and having fun. When the morning rain cleared and blue sky poked through the clouds above Teton Village, one group traipsed outside, helmets on, to clamber aboard the horses and ride in the outdoor arena.
A pair of adults flanked each horse as four of the kids rode into the arena. Instructor Nichole Cox stood in the middle, playing music through the speakers and giving directions.
"When I turn the music on, tell your horse to go," she told the kids.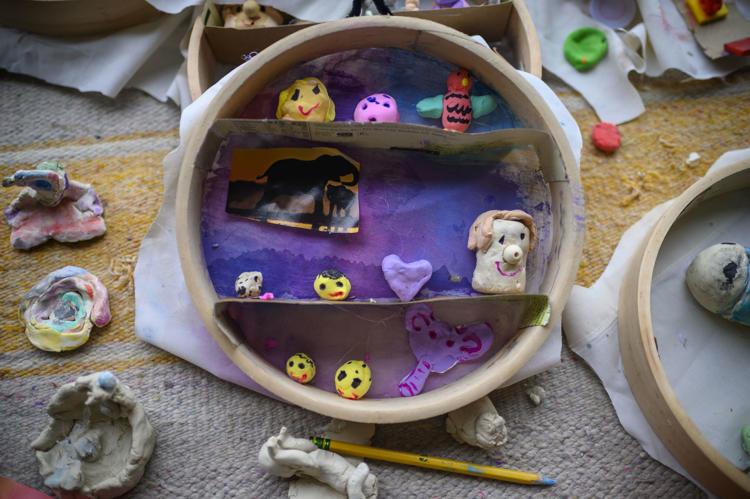 James Tobiason, a 6-year-old rider had just a bit of apprehension mixed with the joy in his eyes as his horse lurched forward. When the music stopped, he pulled the reins and the horse eased to a halt. He broke into a giant grin, a look of unfettered excitement.
That kind of activity works well for James, said his mother, Julie Tobiason. He has a developmental delay that makes it hard for him to follow directions, so the step-by-step nature of Cox's commands — Go, walk to the music, stop when the music stops, pull back — helps him complete tasks he might otherwise struggle with.
The combination of the instructors' skill in working with kids with disabilities and the rare opportunity to attend camp created for these kids a highlight of the summer, which is right in line with the way kids without disabilities view camp. Now that the association knows the program was a hit, expansion might be in order.
"We'd like to make the camps a week long," Fancher said, "and offer them to older kids as well if we can."
That seems likely, as long as Fancher keeps hearing from parents like Tobiason, who said James is still wearing his Strides T-shirt weeks after the camp, on how important these opportunities are for their kids.
"It's nice to have two organizations come together and really kind of have it be a fun event, not necessarily based off a certain type of therapy," she said. "I really appreciate it.
"It's hard to put into words."