When Tom Hargis moved to Jackson in 1996 the population of the town was just over 6,000, and Rock Springs Buttress had barely any established climbing routes.
Maybe a decade later, Emily Gomez moved to Jackson from Mexico City. The town's population was well past 10,000, and Rock Springs Buttress was populated with a myriad of routes put up by Hargis, guidebook author Wesley Gooch and others.
Though their arrivals were years apart, one aspect of their experience was the same: Both climbers spent their first day climbing in the Jackson Hole area local rock on sport-climbing bluff Rodeo Wall, overlooking the Snake River a couple miles south of Hoback Junction.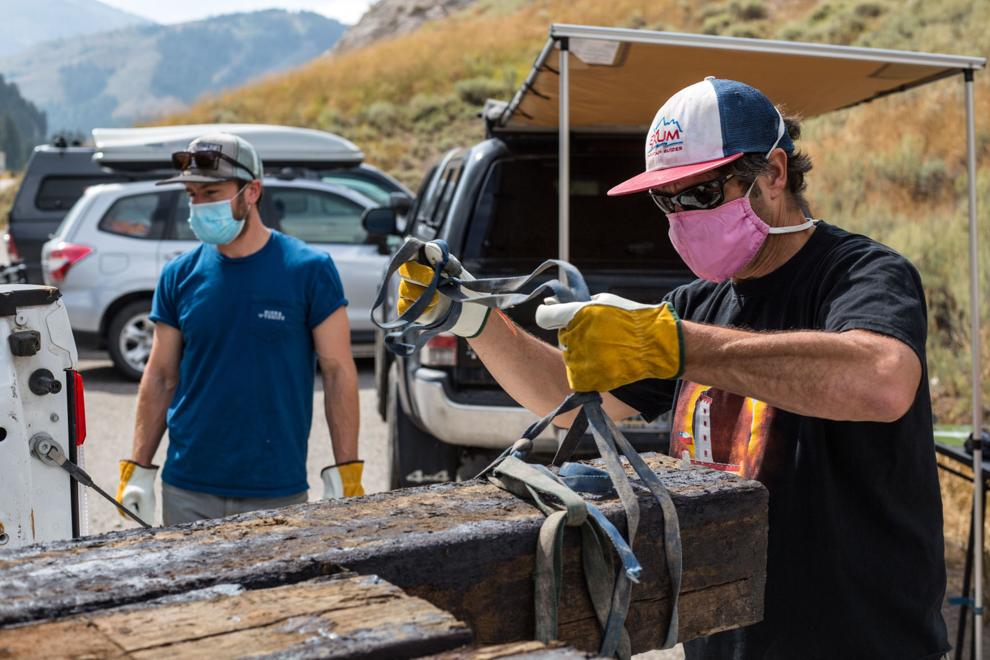 "There are moderate and easy routes," Gomez said. "I feel like everybody climbs here at some point."
For three decades climbers from Jackson Hole and far beyond have cut their teeth at Rodeo Wall, which is why the recently formed Teton Climbers' Coalition chose the limestone cliff band for its first "Adopt-A-Crag" volunteer event — an effort to shore up the access trail and belay posts at the base of the crag.
Gomez, now a board member of the coalition, greeted volunteers last Thursday with homemade raffle tickets and Clif Bars as they pulled into the sun-baked parking lot on the west side of Highway 89, overlooking the Snake River and across the road from the crag. The makeshift trail crew included many names recognizable to anyone familiar with Teton climbing newsmakers: Tom Hargis and Christian Santelices of Exum Mountain Guides; first ascensionist Neil Grimaldi; Town Pump organizer JC Prenner; Teton Climbers' Coalition leaders Sahir Enriquez and Christian Beckwith, to name a few.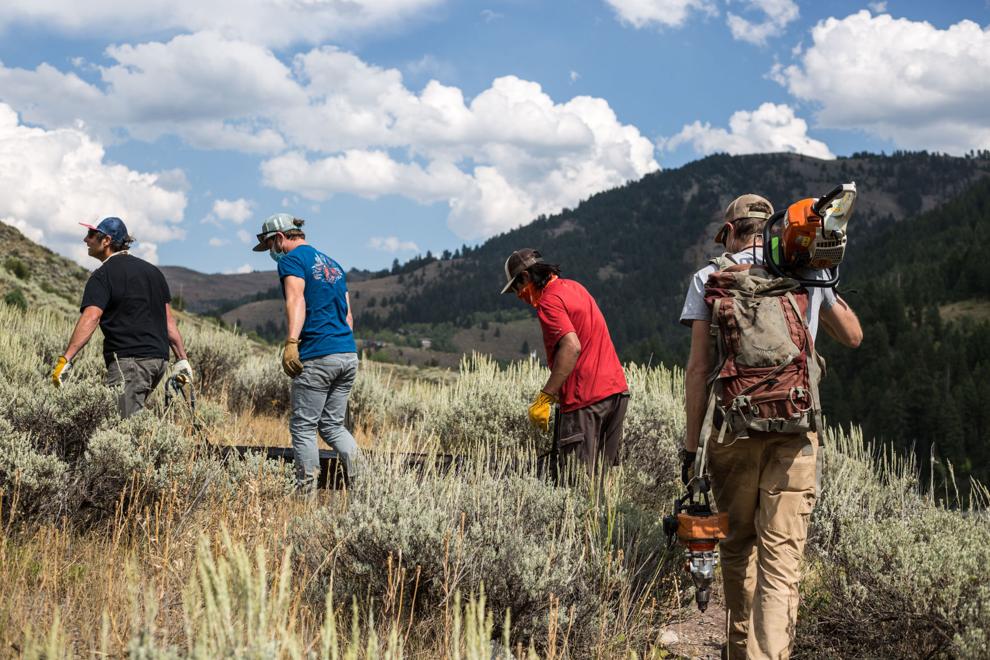 Friends of Pathways trails program manager Chris Owen, who, like the rest of the crew, has climbed at Rodeo for years, led the volunteers.
"I go through waves of sport climbing here and really enjoying getting up in the Tetons," he said.
Like all too many popular recreational destinations, the access trail at Rodeo Wall has suffered from neglect since the U.S. Forest Service had to cut down on paid trail maintenance personnel.
"We had two dedicated frontcountry people that worked here in the past," Owen said. "A lot of that money came from outfitters. Some of that has dried up over the years."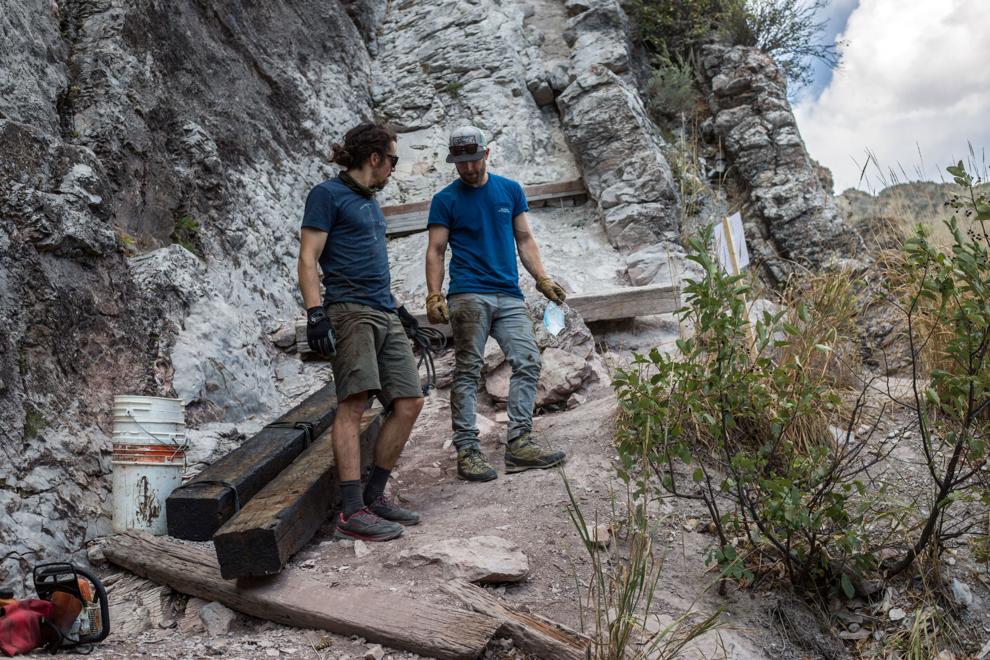 The limestone cliff band lies just off Highway 89 on Bridger-Teton National Forest land, and is reached by a switch-backing trail that climbs to slanting belay stances at the bottom of the rock face. The most-used section of cliff is plagued by erosion due to water runoff and a user trail that cuts off the final switchback of the Forest Service trail.
Volunteers worked from 3 p.m. till sundown blocking off and re-seeding the user trail, installing railroad ties along the outer edge of a belay ledge and landscaping a wide platform at the base of the rock.
Owen thoughtfully directed volunteers and also wielded a finicky rock drill as the improvised base site came together. The difference a few hours of work made was striking.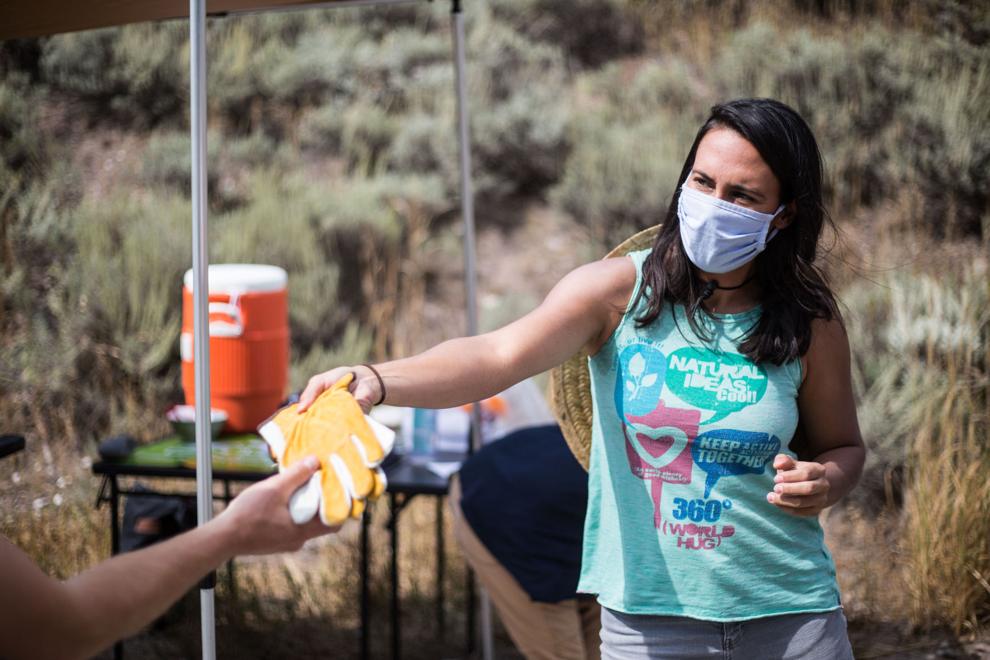 In the late 1980s and early 1990s, sport climbing — that is, climbing with pre-drilled steel bolts to protect against falls — was a relatively new phenomenon in America. Local climbing legend Greg Miles led the effort to establish Rodeo Wall as one of Teton County's first sport crags. In the decades since, Miles has replaced anchors and added bolts in an effort to make Rodeo Wall more accessible to more climbers.
And that's how climbing areas are built — through countless hours of work from generous community members. While in the past the work has been done informally by mysterious benevolent climbers, the Teton Climbers' Coalition is attempting to organize community members to be a part of the process.
According to Enriquez, there is still much work to be done.