Adam Mates refuses to guess how many more days of plowing are ahead before the tall task of clearing Teton Park Road is complete.
"I'm not doing it," Mates says. "It's bad luck."
Perched 8 feet high in the 45-year-old cab of an Idaho Norland 1800 rotary plow, he's been inching along all day, slowly slinging a winter's worth of compacted snow and ice some 40 or 50 feet into the snowed-over sagebrush flats east of Jenny Lake.
Mates' hesitation to take a stab at how long it'll be until the finish line perhaps stems from experience — he doesn't want to jinx it. The Grand Teton National Park motor vehicle operator has 13 years of plowing in the park under his belt, and he knows well that mechanical hiccups are easy to come by.
"She's a good girl," Mates says, "But for as burly as they are, they're pretty fragile."
Just about every year — and sometimes several times annually — the 1974 riding snowblower breaks down. The machine is essentially a push-style "two-stage snowthrower on steroids," Mates says, and it has a lot of old, finicky and hard-to-find moving parts. Late last fall the rotary ate a piece of firewood. That was good for a $15,000 repair.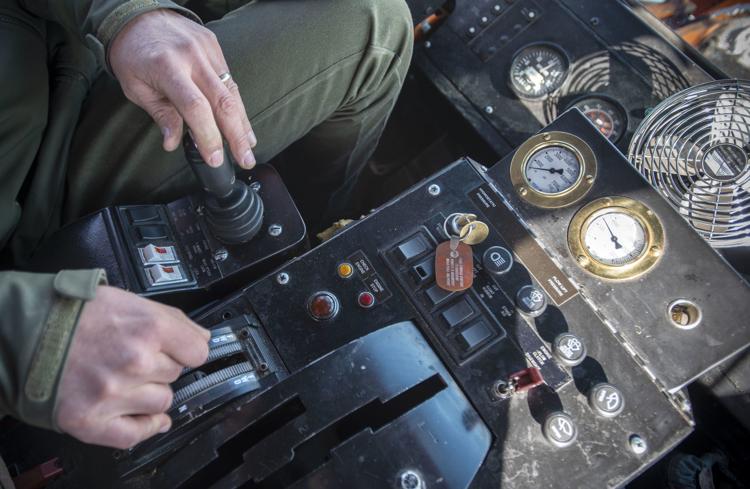 Mates' typical day of plowing Teton Park Road, an annual Jackson Hole rite of spring, starts around 4 a.m. Fourteen miles of the primary interior park road between the Bradley-Taggart trailhead and Signal Mountain function as groomed trail all winter but usually transition back to pavement around the beginning of April. There's a weeks-long stretch each spring when it's a cyclist- and pedestrian-only route, and then on May 1 the gates come up, and it's a normal road again.
Enabling the winter-to-spring transition with a rotary plow is a solo endeavor, although overall it's a team effort. As Mates presses north from the Moose side, a colleague rips through the snowpack pointed south from Signal. The intensity and duration of the job depends largely on the winter.
After historically mild conditions at low elevations last winter, the two Teton park plow crews cleared the 7 1/2 miles to the halfway point at the North Jenny Lake turnout in just two days.
This winter the going has been decidedly slower. Plowing around 16 hours a day — broken into two shifts, with two drivers — the Norland rotary had made about 5 miles of progress between Monday and late Thursday morning. Roughly, that pencils out to just 0.1 miles an hour. Aboard the big rig, it's obvious why the going is so slow — there's a 40-foot-wide, chest-high snowpack that's so hard a kicked boot just bounces off the endless pile of frozen precipitation.
"Your guess is as good as mine," Mates says of the plow's speed. "I think a turtle could pass us up."
Speeding the machine up isn't an option.
"We go so slow so we don't go tearing everything up," he says.
By "everything" he means the plow and its gears and bolts — not the snow it's throwing.
Grand Teton National Park's heavy equipment mechanic, Steve LaRosa, guesses that he puts in about four hours of maintenance for every 10 hours the Idaho Norland is in operation. He's far from bitter about it; it's a somewhat normal level of upkeep of heavy equipment in snow country, he says.
"It's inherent to the job," LaRosa says. "It's the cost of doing business, and we understand that."
The park's overall fleet of snow removal machinery amounts to three rotary plows, five "loaders" that can double as blade plows, seven dump trucks and two graders.
"This year was light," LaRosa says. "We had one truck that had a major breakdown and that was it."
Smaller breakdowns are more commonplace. The Moose shop's other Norland rotary plow, for instance, was down for the count Thursday with a broken starter.
The National Park Service has work orders in to replace some of the aging equipment, but at this time there are no such plans for the Idaho Norland snowblower Mates spends his days driving. The custom-built rig has already been remade twice back at the manufacturer's shop in Burley, Idaho, once in 2000 and again in 2008.
Over its lifetime it has accrued almost 34,515 miles, all here in Grand Teton National Park.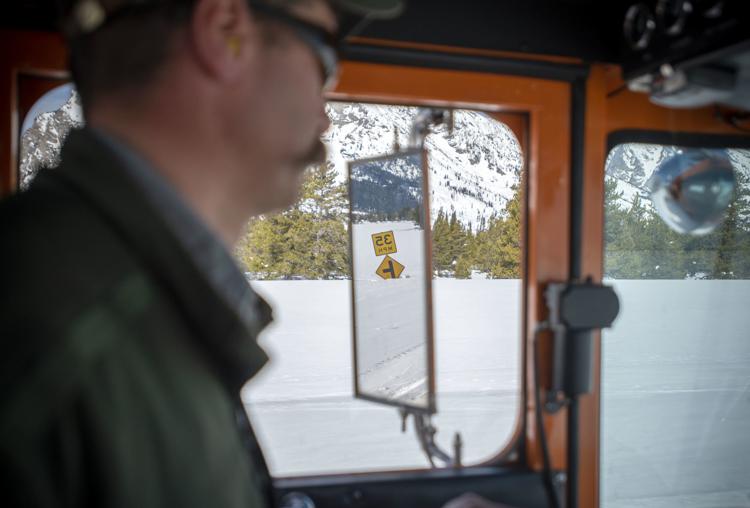 Just before noon Mates meets up with his counterpart, Dale Leslie, who drives out to the edge of the plowing progress at the South Jenny Lake turnout to take over the pilot seat of the plow. Leslie will plow until past sundown. During the handoff the truck's 350-gallon diesel tank gets a top-off. The fuel consumption varies depending on the snowpack, but it goes through around 160 gallons a day on average, Leslie says.
A day of snowblowing Teton Park Road is not nearly as mindless as you would guess.
Markers protrude through the snow delineating the road shoulders, but the plow drivers have to constantly readjust to keep on a straight trajectory. Ice in the snowpack tends to pull the rotary slowly to the side, producing cuts that are more like long, shallow arcs than straight lines. As a result, Mates' head is constantly on a swivel, checking his mirrors and line and listening attentively for hiccups in the rumble of the plow.
Podcasts or even the radio have no part in the daily routine.
"I listen to the machine," Mates says. "You've got to listen to it, because it'll tell you if something is wrong."