Xochitl Corona stands at the top of Davey Jackson Mountain Resort, a freshly pushed-up berm of snow in the field south of Jackson Elementary School.
Strapped to her feet are cross-country skis; in her hands, poles. Other children, also sporting cross-country skis, stand at the top of the hill, picking their lines.
Almost without warning, 8-year-old Xochitl slides the tips of her skis over the edge and careens down her chosen run. As she rolls over a small jump at the bottom she rocks her weight back then forward instinctively, riding out the line until she slides to a stop.
Others follow suit, then point their skis back toward the top and start walking. The kids make up the inaugural cohort in the Teton County/Jackson Parks and Recreation Department's after-school cross-country ski club, an affordable program that gives kids the chance to learn the basics of Nordic skiing. Under the tutelage of community members and accredited ski instructors, they ski and learn for two afternoons each week.
With two hours on snow every Tuesday and Thursday, the third, fourth and fifth graders have a chance to pick up skills, even when things don't work out.
"There's a jump," Xochitl said at the bottom of Davey Jackson Mountain Resort, "and even every time you fall you learn new stuff."
Skiing up and down Davey Jackson Mountain Resort is part of the program's warm-up. Kids have free rein: Some walk slowly in groups around the groomed track, some jump directly into a skate ski lesson.
Soon enough, lead instructor George Davis grabs their attention.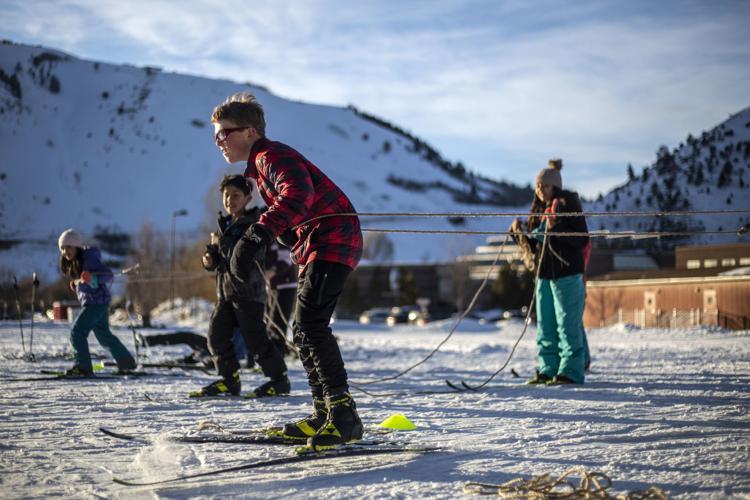 "All right, everybody!" he yells. "Let's go on an adventure ski."
One of the instructors leads the kids on the groomed trail, into a patch of soft snow, over a series of small hills and to the bottom of the Big Kahuna, a tall pile of snow with a steep entrance and a long descent. Nearly a half-hour into their ski lesson the kids haven't done any actual drills, which is by design.
"They are learning all these different skills — balance and posture, how to move and turn, without knowing that's going on," program manager Cory Connett said.
Connett and Davis are the driving forces behind the program. As the outdoor recreation programmer for Parks and Rec, Connett develops affordable programs that get kids outside. Davis brings experience as an accredited ski instructor and a bit of fundraising clout in his role as the founder of 22 Nordic, a nonprofit dedicated to increasing the accessibility of cross-country skiing.
They started with a pilot program last winter. With a capacity for about 25 students, they embarked on a four-week program, but the first week only five showed up. Though Connett did little marketing of the program, by the end of the fourth week 25 kids participated.
"It was a total grassroots thing, but people heard about it one way or another," Connett said. "We knew we were on to something."
This winter the program runs eight weeks and, with a grant from Fischer Skis and some help from Davis, provides all the kids' ski equipment. Encapsulating its goal is simple. It tries to cultivate a love for Nordic skiing through a mixture of skills building, play and accessibility.
With downhill skiing day tickets that cost $59 at Snow King Mountain and $165 at Jackson Hole Mountain Resort, some families are priced out of the main source of winter recreation in the area. Nordic skiing is intrinsically cheaper, since the equipment costs less and free trails exist throughout Jackson. Even so, lessons can be expensive. Parks and Rec offers its program at around $12 per two-hour session, which includes boots and skis.
"One of the biggest focuses was to take barriers out, to make it more affordable," Connett said. "We wanted to stay true to that."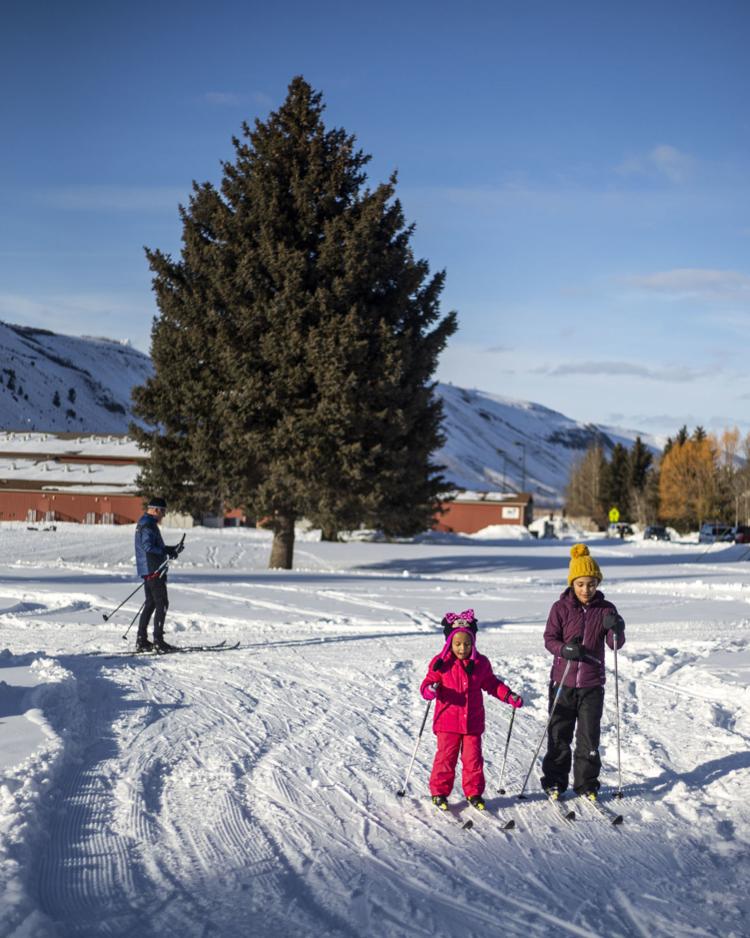 Following the adventure ski, Davis and the other instructors spread students out for a relay race. Lines of skiers stood in each quarter of the groomed track, but the instructors had a trick up their sleeve.
They told the kids to take off one ski. Doing the race with one ski forced them to push off with their ski-less foot and glide on their ski. It was the closest thing to a drill the students did, but the activity was still couched in fun.
Cross-country skiing requires specific skills, including fore and aft balance, glide and pushing off. For the age group, Davis directly teaching about those concepts wouldn't necessarily be successful. The one-legged race and other games he has devised instead allow the kids to intuitively learn them instead.
Some are active in other sports, and many skills transfer.
"I downhill ski, but this is a new experience for me," Alfonzo Yael Mungia-Lopez, 10, said during the relay race. "The race is not that bad. I'm used to running a lot."
Whether they are sliding down the Big Kahuna or kicking themselves around on one ski, the kids were generally learning one specific skill. The last game of the day, however, wrapped everything into one activity.
The skiers had to be on their game for the tractor pull, in which one kid towed another behind them. Lead skiers had ropes around their waists that the second one held. Starting at one end of a straightaway they sprinted — with two skis — toward a set of cones, turned and made a mad dash for the finish line.
"If they do it right, and the person in the rear is in an athletic position, they glide easier," Davis said.
Were the kids successful in the tractor pulls? Sometimes.
Some teams cruised up and down the course. Some lead skiers tried too hard to push off and lost their balance, while some towed skiers couldn't stay in one position and tried to also push along, defeating the drill's purpose.
Aside of whether they won the race, everyone had a good time, even the kids who ended up in the snow.
A new generation of skiers
As the sun dipped below Josies Ridge and the shadows grew longer, kids took their skis off, dropped them in a set of garbage cans for storage and ran to tell their parents about the games they played. They may not have been able to articulate which skills they learned, but Davis is more concerned that they leave each day feeling accomplished and still engaged by Nordic skiing.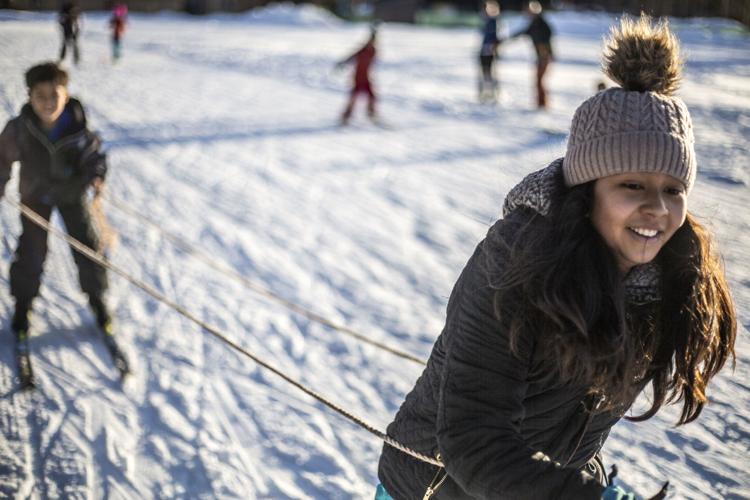 His curriculum is more about creating a crop of Nordic skiers. Granted, the better they become at the sport, the more likely they are to enjoy it, but he would rather see them take home an appreciation for the sport than a detailed understanding of the role of edging in skate skiing.
"The idea is Nordic for life," Davis said. "They can go along with their parents; it's low cost."
Parks and Rec's program has even garnered some attention nationally. Davis said he went to the Professional Ski Instructors of America directors meeting, and ski clubs from around the Intermountain West liked his and Connett's creation.
Particularly because it harnesses the resources of local agencies like Parks and Rec, as well as the support of nonprofits like 22 Nordic and Coombs Outdoors, which has provided some families with scholarships to cover the program costs, the ski club transfers much of the cost away from families. Removing cost as a barrier may be the most important first step to getting people on snow.
Once kids identify as a skier and decide to take the next step in the sport, the after-school club can act as a springboard to higher-level programs, like the Jackson Hole Ski and Snowboard Club.
"They are suited to do more outreach," Executive Director Brian Krill said of Parks and Rec and 22 Nordic. "We are here for the kid that catches the fire."
Organizations that break down barriers for communities underrepresented in the outdoor industry are vital, Krill said. His organization, with its focus on skills development and competition, doesn't have the infrastructure to successfully build relationships with the Latino community for those who aren't already skiers.
The Parks and Rec club and its partner, Coombs Outdoors, does, and they help create a path for young skiers who may not otherwise have it due to a lack of opportunity. As their programs have developed, Krill and the Ski Club have equipped themselves to support them as their skills grow.
The Ski Club now has over $100,000 in need-based scholarships that it gives out each year, and 38 skiers this winter who came through Coombs Outdoors. As the Parks and Rec program solidifies, Krill expects to see some of its kids move into the Ski Club, too, in part because all these programs have the same vision — to create lifelong skiers.
"In communities that approach this as a community," he said, "there's a lot of overlap. It creates a community pipeline, and that's where the magic happens."