When Shelly Greene was a toddler in Utah 41 years ago her father, Kim, would ask her and her siblings whether they wanted to go to Disneyland or the Bar J Chuckwagon.
The family didn't have money to do both, Kim would tell his children. But the decision was easy: Shelly, her sister Misty and their brother always chose the Chuckwagon.
And since 1980, three years after the Chuckwagon opened, the sisters haven't missed a year watching the Bar J Wranglers crack jokes, sing cowboy tunes, dish out food and welcome the 700-person crowd as if the band had known them their whole lives.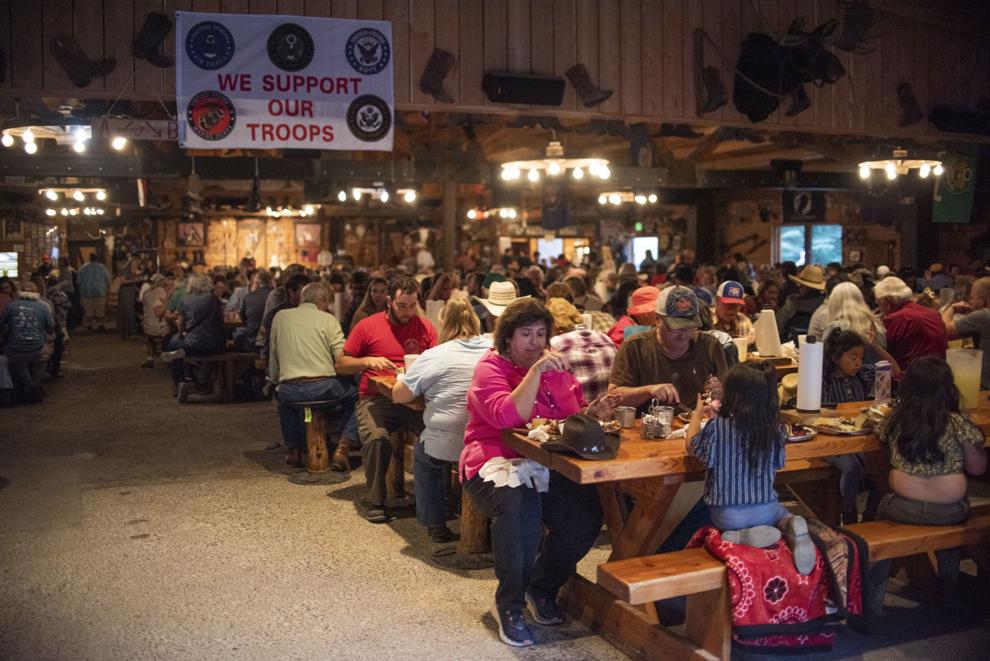 "The boys are so nice and cute and funny," Shelly said about the band. "And I love their music. I have every CD and DVD they've ever made."
This year Shelly drove to three shows, each time from Lindon, Utah, more than five hours away. She wouldn't miss this last dinner and show, she reflected just before it began last Monday, although she knew it would be more emotional than most.
Her and Misty's brother is in the intensive care unit, recovering from COVID-19. And unless something changes, Shelly doesn't think she and her sister will return to Jackson after this trip, for the band they've come to see is packing up shop.
The Chuckwagon sold, and the Bar J Wranglers don't know whether they will continue playing together beyond their autumn and Christmas shows on the road. Rising property taxes have made operating the Chuckwagon an uphill battle, and the Humphreys, who started the band, are ready to take at least a quick break. Though they have invites to bring the Chuckwagon elsewhere, they don't know if they'll continue forward.
Babe Humphrey, for one, is 88. He thinks it's time, he said, "to start acting my age" and retire for good.
His son, Scott Humphrey, who has been playing onstage for most of the Wranglers' 44 years, is ready to "have some freedom and commitment to our own families and our own time." Bryan Humphrey nodded along to what his brother, Scott, was saying.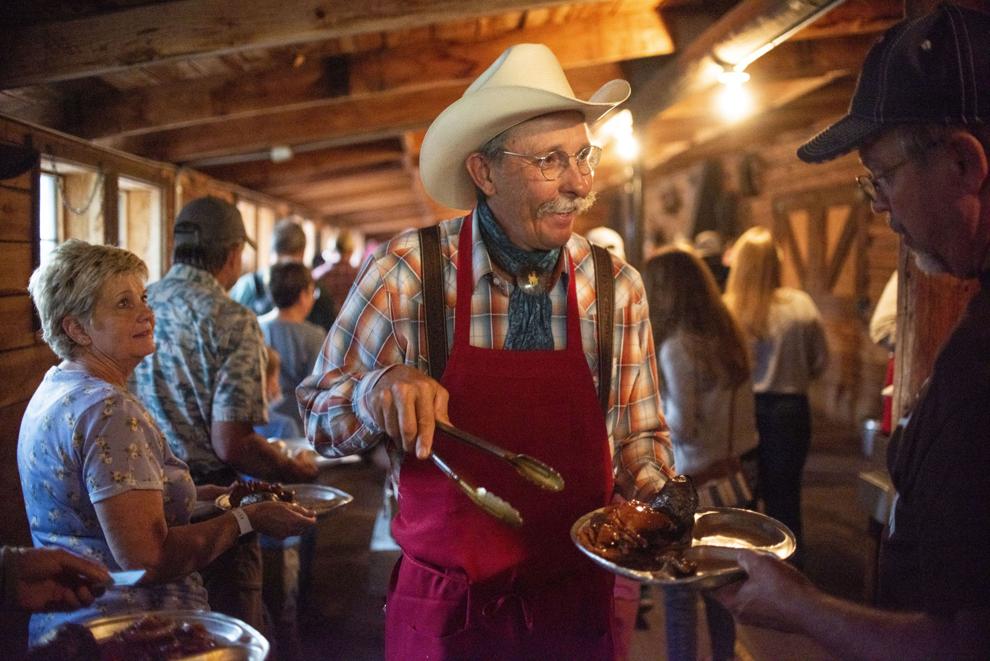 But while those sentiments are genuine, the Humphreys' words didn't come easy to them. They have built families, a community, a brand and a lifestyle while working seven days a week every summer for 44 years at the Chuckwagon.
They met the Greenes and countless other families that cherish the old-fashioned spice cake, the tin plates, the jokes they've heard dozens of times but still chuckle at and the harmonies that few groups can match. They've watched their grandkids and great-grandkids grow up from the Chuckwagon stage.
There isn't a summer in the past 44 years when the Humphreys have been anywhere else besides the Chuckwagon.
"It's hard to say 'We're closed,' " Babe said. "But it's time."
Babe said this around 5:30 p.m., as the venue's doors opened and hundreds of locals, five long tables' worth of the Humphreys' family members and a few dozen first-timers walked in, wearing cowboy hats, flannel, bolo ties and smiles they maintained for the next four hours.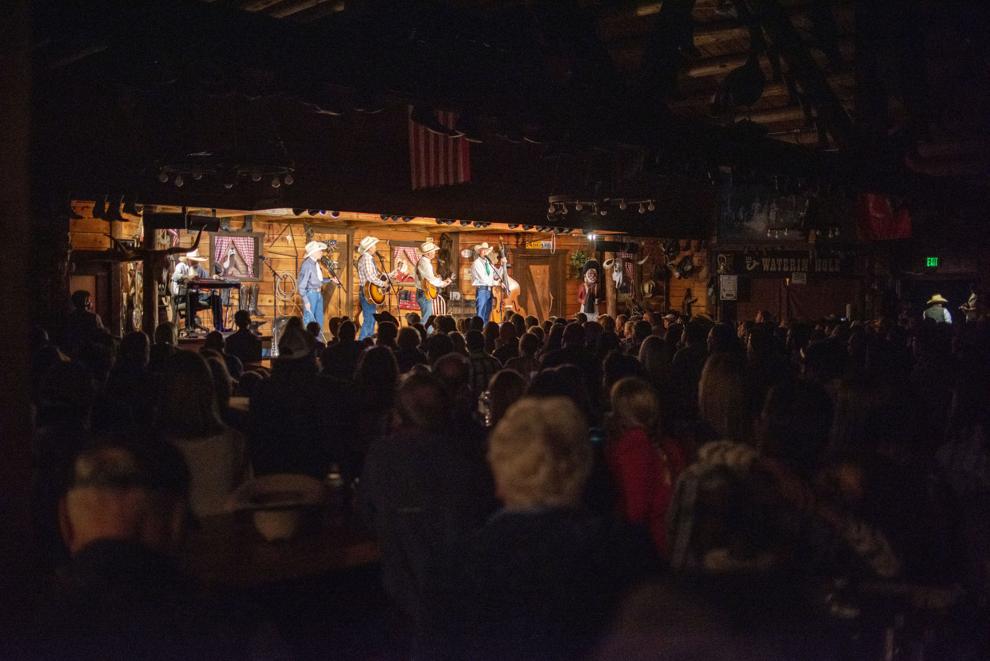 In walked Cody Lara, a Jackson Hole Fire/EMS staff member who washed dishes and did miscellaneous tasks at the Chuckwagon for years. He was with his pregnant wife and their kid.
In walked Pat and Kathryn Murray, who were thrilled the Humphreys remembered the joke about a three-legged chicken that Pat told the band years before. They had been coming to the Chuckwagon for decades, even bringing guests from South Africa.
In walked the Greenes, ready for one last show.
Hundreds of other families walked in too — past the ticket booth, gift shop and train ride to Ronnie Henson, who has been serving biscuits out of a dutch oven, tenderfoot lemonade out of the Chuckwagon kitchen and fixing up the property for 22 years.
"We're like a big, happy family," said Ronnie, who added that he was really sad about it probably being the last season he could work with the Wranglers.
Ronnie said he will miss many things, among them the summer staff like Cody, who he has seen grow up.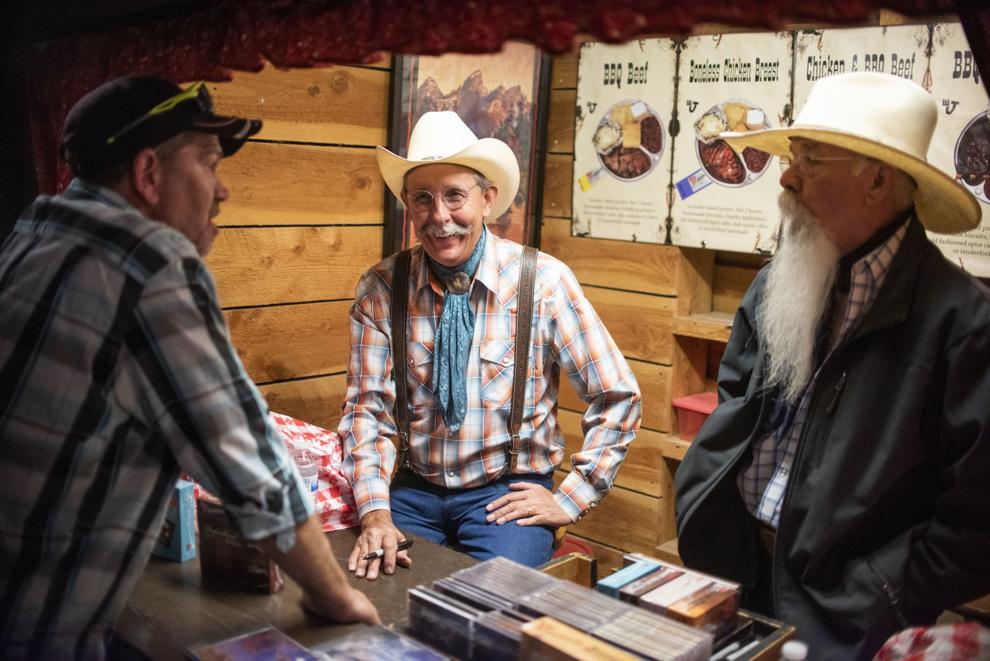 "We've had some fantastic kids come out for the summer seasons and work with us and [become] adults and turn out to be fine, fine young people," he said.
Before showtime, for perhaps for the last time, Ronnie passed out biscuits and honey, Scott passed out barbecue beef, and Scott's bandmates and co-workers dished out baked beans, chicken, chunky apple sauce and ranch coffee.
And then Babe, for perhaps the last time, stepped on the stage and opened the show to say goodbye.
"Rest assured we'll be missing this place," he said. "Like a lot of people, we're going to miss it as well. But there comes a time ..."
He went on, thanking the fans for giving the Bar J a chance, thanking God for making it popular and thanking the Wranglers for sticking with the band.
There were plenty of tears in the crowd as Babe was speaking, and a couple of tears among the Wranglers onstage.
"You got 'em all crying and we ain't even started yet," Scott said to his dad.
Then, as Babe left the stage, Donnie Cook played a simple low-end rhythm on guitar as the other four Wranglers harmonized:
So long, old pal, it's time your tears were dried/ I'm heading for the last roundup.
And on the Wranglers went, like they have done for thousands of shows. Bryan Humphrey yodeled away, Scott Humphrey kept the band in rhythm with his steel-string guitar, Danny Rogers turned heads with his bass range, Tim Hodgson fiddled quicker than most people could, and Donnie Cook backed the band with sweet melodies on the pedal steel guitar.
Locals in the front row sang along to every word, as did Shelly Greene in the back. Mothers and fathers hugged their children, and during the quiet times between songs, longtime Wrangler fans talked about the band using sentences that began with the words "I remember."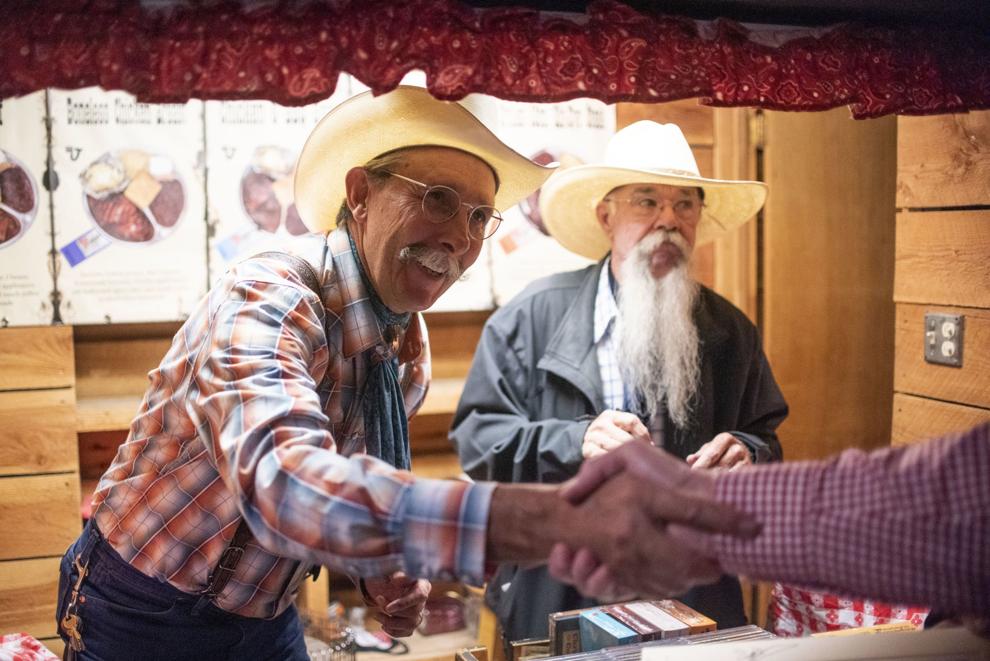 The band went through Western waltzes, a song dedicated to the military, the legendary Earl Scruggs composition "Earl's Breakdown" and, as always, a couple of jokes.
"Any anniversaries here tonight?" someone from the stage asked. A few people cheered. "What about divorces?" Most people in the room laughed.
And the Wranglers would have kept their fans laughing through the years, as they have been for nearly a half-century, if it weren't for a well-deserved break, high property taxes and, as the band members reluctantly concede, a little bit of old age.
So, perhaps for the last time at the Chuckwagon, the Wranglers sang:
And my heart is sinking like a setting sun/ Setting on the things I wish I'd done/ Oh the last goodbye is the hardest one to say/ This is where the cowboy rides away.