Hitched-up sled dogs barked and bounded through the National Anthem, excited to be loaded into snow chutes at the Pedigree Stage Stop race. Along the sidelines a small group of kids waited with helmets and goggles on, ready to jump into sleds.
The Junior Mushers program allowed the suited-up crew to ride along — zipped inside the slim sled — for the 2-mile journey from Town Square to Phil Baux Park.
The first two riders stood on a snowbank Friday as assistant race director Dianna Lehn tapped their helmets and asked if they were ready.
Nervous? Helmets shook no.
"They don't quite realize how big it is until they get here,"said the program's lead teacher, Katie Williams.
The kids, like the professional mushers, prepared to face off two by two as heats of dog teams slid into the snow track, made earlier in the day. The Junior Mushers program, which pairs kids with professional mushers for a short trip around the track, has been around since the race started 24 years ago, Lehn said.
Two brothers, Collin and Joel Edwards, were the first sibling matchup. Twins Brooks and Adlyn Evan were up soon after, heading into the race with a $7 bet, to be paid to the winner by the kids' parents.
"Are you going to beat your sister?" Stage Stop announcer and a former racer Jerry Bath asked Brooks.
"Maybe — probably," he said, tucked into Justin Fortier's sled.
"I think we'll beat him," said Alexandra Rochat, the musher carrying Brooks' sister Adlyn.
The short fun run is a ceremonial nod to the Pedigree Stage Stop race, a competition that pits mushers against one another through seven legs, the first in Jackson Hole, the last in Teton County, for a $165,000 purse. Competitors also cover ground in Alpine, Pinedale, Kemmerer, Big Piney, Marbleton, Lander and Driggs, Idaho.
The Junior Mushers climbed into sleds hitched to five dogs, a smaller team than the eight-dog hitch used in the seven stages. All the kids hailed from areas surrounding the legs.
"I've always liked dog racing and wish we could have a team of our own," said Laurie Swanson, whose 10-year-old son, Wyatt, joined the Junior Mushers.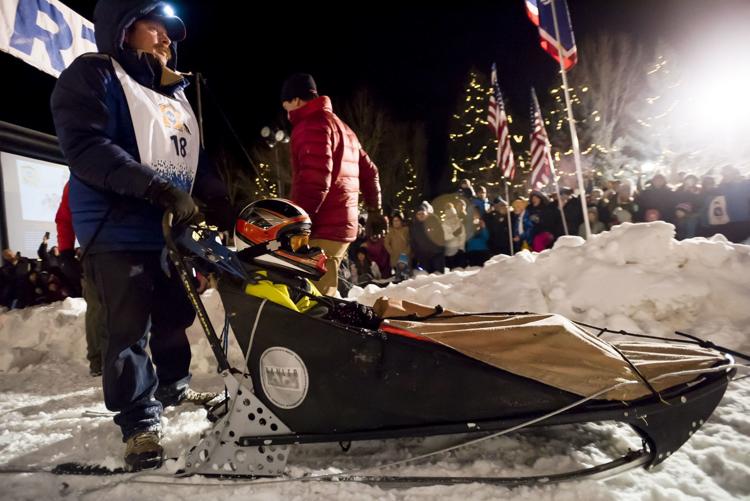 While the family did own a husky once — Dozer, who Wyatt said was the inspiration for his interest in sled dogs — their current dog, a Lab/Australian shepherd mix named Summer, isn't much of a professional sled dog. Though, to her credit, she will pull a kid or a Christmas tree in a sled, Swanson said.
Besides visiting with Wyatt's mushers' team — a pack of 23 dogs and two puppies — at the Friday morning veterinarian check, the highlight of the program was being paired with Dennis LaBoda, a musher from Minnesota, where the family once lived.
"Wyatt has been so excited all week," dad Joel Swanson said.
Many of the Junior Mushers are the children of parents who have been involved with the race in one way or another, like Clairey and Cody Grubbs, the later of whom has long been a part of the trail crew. Their son Tanner Grubbs raced in the sled of JR Anderson.
"Tanner has literally been coming out to the race since he was in the womb," Clairey Grubbs said. "He's super fired up and excited to be with JR. He's one of his heroes."
Post-race, a bouncing Tanner exclaimed to his mom, "I won!"
Asked what it was like sliding along the Jackson streets, the 6-year-old said, "It was like driving a T-Rex."
Having a long tenure with the race, the Grubbses have become a friend of River Rock Kennel, the home of the Minnesota-based team and a pack of over 50 dogs.
Williams has also built a friendship with one of the mushers through the Stage Stop program, having hosted musher Jeff Conn at her home in Pinedale. The family plans to visit him in his home in Alaska.
The musher even took her two kids on a training run the Sunday before.
"We have one of his bibs on our wall," Williams said. "He's a bit of a legacy in our house."
Her children Hayden, 6, and Maggie, 9, raced in the Junior Mushers program this year as well, with Hayden riding in Conn's sled. Maggie was paired with Laura Daugereau.
"Are you going to win?" Bath asked Maggie as she climbed in the sled.
"Yep," she said confidently.
Though the Friday night race was a friendly lineup, the families and kids were pulling hard for their teams to do well on the short course — and in the legs to come.
"I hope she wins," said Sarah Neeb, whose daughter, Ruby, raced in the sled of Anny Malo. "Apparently it's a lot of money."
Ruby prepared for her Junior Musher program by reading the book "Balto of the Blue Dawn," a story by Mary Pope Osborne about a sled dog adventure. The 10-year-old was sure to bring her helmet and goggles Friday because, she said, "you gotta stay safe."
Eight-year-old Aylen Mills and older brother Fisher Mills were two that rode head-to-head, the younger paired with Linda Pierce and the older with Dan Phillips.
"I'm really excited," Fisher said before the race. "It's fast and I like going fast. I did it last year and I really like it, so I wanted to do it again this year."
PHOTO GALLERY: Pedigree Stage Stop Race vet check, ceremonial start and Alpine leg
Scenes from the 2019 Pedigree Stage Stop Race's vet check, ceremonial start in Jackson Town Square and the first leg of the race in Alpine.
Though the two would face off in the race, Aylen wanted to join the program — which requires kids to complete 10 hours of community service and write an essay as part of their application — because she saw her older brother race the year before.
And also because "I like animals," Aylen said.
Most of the kids who participate have pets of their own — like 15-year-old Toby, who was described as an adopted mutt and a bit of a curmudgeon, or Summer, the Lab/Australian shepherd with a bit of sled dog in him.
But most of their dogs at home are nothing like the sled dogs, high-energy breeds that one musher said would run an average 50 mph.
"We've got lots of cow dogs but not any sled dogs," said Chelsea Lundquist, mother of 8-year-old Sonora, who was paired with Greta Thurston.
Sonora, who earned her community service at Camp Magical Moments and shoveling porches, said she applied to the program to "meet new people and see the dogs."
Most of the kids echoed the same sentiment.
"I just like hanging out with the musher and being with the dogs," 11-year-old Aaron Salzman said.
It didn't bother him that his musher, Lina Streeper, overall winner of last year's Stage Stop race, lost the ceremonial leg.
"We got a slow start," he explained.
While many kids are repeat mushers — "once you get them once, you'll see them again," Williams said — at least one junior musher, 10-year-old Nathan Haderlie, knew the experience would be a one-time deal.
"My mom says I only get to do it once," he said.