Carmel Tice had leukemia. Then Father Ubald Rugirangoga said God had healed her. And Tice didn't have leukemia.
That's her story. But not just hers. You can hear many people say the same, in Jackson, around the United States, the world and in Africa, where Rugirangoga survived the Rwandan genocide and went on to preach another healing message, of peace through forgiveness.
Tice went to hear Ubald with no previous feeling about such things, "had no idea what to expect," she said this week. But she went away hopeful and in a decade since then has been convinced: "A lot of people don't believe, but there's no way I can deny I was healed."
Rugirangoga, commonly called "Father Ubald," based his ministry in the United States in Jackson, where he visited twice a year for several months since 2009.
Father Ubald died Thursday in Salt Lake City. He had been hospitalized since October after contracting COVID-19, his condition sometimes improving and offering hope. He's believed to have been exposed in September during an evangelizing trip to Wisconsin. He sickened within days of returning to Jackson.
Even more than his work healing people's physical and mental ailments, Father Ubald's renown came from peace-making. His message grew from his own experiences during the 1994 Rwandan genocide, in which 800,000 Tutsis were slaughtered in 100 days by their Hutu neighbors. Eighty members of Rugirangoga's family and 45,000 refugees seeking haven at his church in Cyangugu Diocese were included in those killed.
Among those who Rugirangoga forgave was the man who murdered his mother.
"How do you forgive someone who killed your mother?" asked Paul Vogelheim, a Jackson resident and friend of Rugirangoga during the years he was a part-time resident here. "It's inhuman."
But Vogelheim said Ubald's insistence that "forgiveness sets you free" attracted millions to hear him.
Father Ubald's message of reconciliation brought him attention, admiration and finally adoration in his own country and around the world. He taught that there could never be peace as long as people did not forgive those who had harmed them. He said mercy toward those who had done evil was as important for the person who forgave as it was for the one being forgiven.
"When the man who killed my mother begged pardon from me, he healed me," Ubald told the News&Guide in 2017. "Mercy to the perpetrators has healed me ... to forgive makes you free."
Katsey Long, of Jackson, met Father Ubald when he first visited here in 2009 to preach at Our Lady of the Mountains Catholic Church. Almost as soon as they met he told her that she would from that point arrange his travel in the United States, and she accepted his call. She said his summons was "absolutely a divine appointment."
Long later led production of a movie about Ubald's work, "Forgiveness: The Secret of Peace."
Long said her unexpected selection as Ubald's US road manager covered years when he rose from unknown to wildly popular in this country.
"Nobody here had heard of him," she said. "At first it was begging people to take him. I told people, 'You want him to visit. I promise you, you do. He's great.' Then it was turning people away."
Long sees her selection by Ubald as divine intervention in itself: "I've always believed I don't have to go looking for what God wants me to do," she said. "What God has for me to do will show up."
Ubald's appearance in Long's life turned into a big job for the clinical social worker as his American ministry grew. She told him once that he was keeping her busy all the time, but he said it wasn't him.
"He said, 'I haven't kept you busy, Jesus has kept you busy,'" Long recalled. "I told him that 'Jesus isn't so busy when you're not here.'"
Rugirangoga came to call Jackson his second home and credited support here for furthering his evangelizing and in creating the Center for the Secret of Peace in Rwanda. When he was here he hiked, went horseback riding despite a fear of horses, was taken whitewater rafting by people who didn't know he couldn't swim — he later learned. Long said he was "a terrible driver."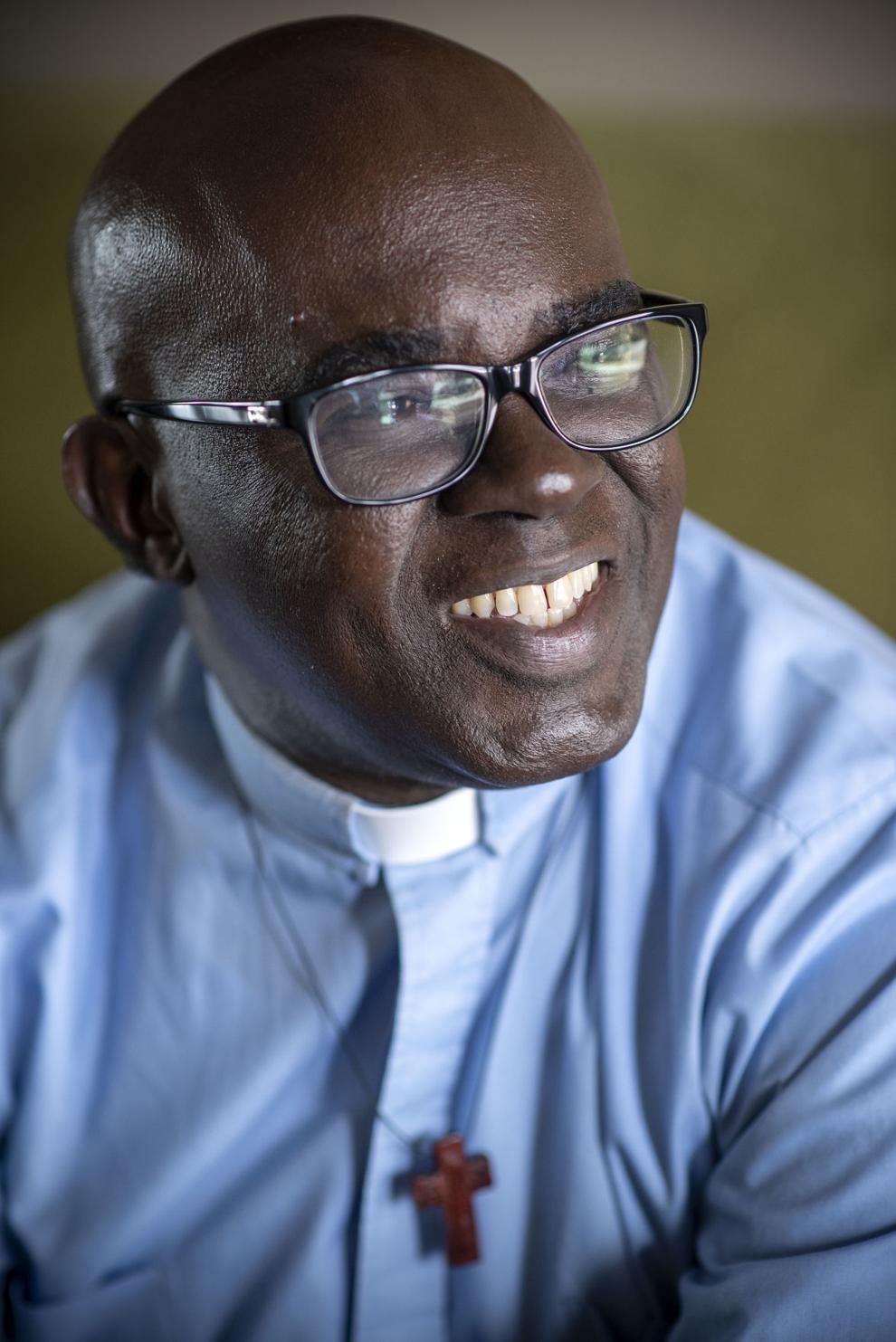 Ubald Rugirangoga was born on May 16, the feast day of St. Ubald, an 11th century Italian bishop. Ubald's year of birth is believed to have been 1955, though he was uncertain.
Violence by Hutus against Tutsis was common long before the 1994 massacre, and Ubald's father was beheaded when Ubald was 7. He and his mother and brother hid in the jungle and escaped the country.
Rugirangoga returned and was ordained a Roman Catholic priest in 1984, but he fled in the middle of the night on foot 1994 when people in his own parish threatened to murder him. But after sheltering in France for several months, he said, he heard Jesus tell him "Ubald, take up your cross," and returned home to bring peace.
"I was in Europe preaching about forgiveness," he told the News&Guide in 2017. "And I decided I needed to go home and realize what I was preaching."
In another interview he said that "forgiveness is really a way to stop our violence. It is the weapon to fight violence. That is my conviction."
That Ubald forgave the man who killed his mother amazed his Jackson friend Vogelheim, who recalled Ubald telling him that he went to the man and said, "Your wife is dead, your son and your daughter are orphans, I will raise your children." After jail the man joined Ubald in reconciliation work.
Tice's healing meeting came at Ubald's first Jackson visit. She went with a friend, thinking they'd hear about Ubald's peace work. But, she said, he began announcing that there were people in the crowd who had at that moment had hearing restored in a deaf ear or the use of a knee returned to them.
"Then he said there is someone who has cancer of the blood, and he said, 'Now you are healed.'"
"My friend poked me and said, 'That's you.' And I said, 'Uh, OK."
But, Tice said, she called her oncologist the next morning and told him what had happened and that she felt compelled — as an experiment — to stop taking the drug that had kept her leukemia controlled for a decade. He agreed.
"I took a blood test in three weeks and it wasn't back, and another in a month and it wasn't back," she said. "I've been healed since February 2009. I haven't had to take a drug, I haven't had cancer."
Tice, a pharmacist at St. John's Health, and Long said they've often heard such stories from people with many afflictions, those with spinal problems, breast tumors, epilepsy, addictions and depression. That not everyone was cured hasn't dissuaded them, not even that Ubald himself died, they said, because he was emphatic that it wasn't up to him.
Long said Ubald told her healing was a "heartbreaking business."
"It was a mystery to him who God chooses to heal," she said. "'It's never up to me. ... I have no control over it.'"
"He always said it was God's will, and if it wasn't God's will it wasn't going to happen," Tice said.
Tice believes Ubald's death means "God wanted him for some other work, God's will wasn't to keep him on this Earth.
"God had another purpose for him."