For many people, knowingly sitting inches away from a sample of SARS-CoV-2 would trigger a fight-or-flight response. For Amy St. Pierre it's just another day at work.
St. Pierre is on the front lines of what public health experts have repeatedly said is the single most important tool that the American health care system can employ to lessen the spread of the coronavirus: testing. But you would never know it.
Unlike the nurses and doctors who work face to face with sick patients, St. Pierre works in an environment of test tubes, fume hoods and petri dishes. She is a medical laboratory scientist and one of two clinical lab supervisors at St. John's Health, which means she is in charge of coordinating testing for the potentially coronavirus-laden swabs that come from throughout Teton County and the surrounding area.
When St. Pierre produced her first positive test result for the novel coronavirus, her thoughts went to scientific integrity.
"I'm not worried about myself," she said. "When I get a positive my biggest thing is the next specimen I run. You're always paying attention to make sure you don't have carryover."
While most of us have been occupied by thoughts of infectious disease only since late winter, St. Pierre thinks about it every day. And SARS-CoV-2 is by no means the most virulent pathogen to be scrutinized by the medical laboratory scientists at St. John's.
"Think about HIV and potential needle pricks," she said.
At one point the lab even tested a sample that was positive for Francisella tularensis, a bacteria that is so nasty that it was once developed as a weapon for the now defunct U.S. biological weapons program.
For St. Pierre the challenge of identifying an unknown pathogen is her life's work. She is driven by a curiosity and passion for the microorganisms that cause infectious disease.
"You're really in essence a detective," she said. "You're always learning, and things are always changing."
The unpredictability of microorganisms may make St. Pierre's job more interesting, but during the COVID-19 crisis it has also presented a number of challenges. SARS-CoV-2 is an RNA virus, meaning that its genetic material (and much of its structure) is made of RNA, not DNA. The enzymes that RNA viruses rely on to replicate are essentially bad at proofreading. They make a lot of mistakes, and when you are copying genetic material, mistakes are mutations. So as SARS-CoV-2 has spread around the world it has undergone constant mutation, which can make it more difficult to identify and treat.
"As soon as you think you have something figured out, it changes in five minutes," St. Pierre said.
If anyone is up for the challenge, St. Pierre said, it's St. John's Health.
"I could be wrong, but there can't be another hospital trying to do as much as we're doing," she said. "I just feel like we're extremely lucky."
The faith that St. Pierre has in the hospital mirrors the faith that her coworkers have in her abilities and work ethic. She has been nominated for Employee of the Month multiple times during her tenure and is respected by doctors, scientists and assistants alike.
"She can take a monumental task on, dive deep and then seamlessly develop a plan," said Lacey Mendillo, the lab's other clinical laboratory supervisor. "I don't know how she does it."
Working her way through the ranks
As COVID-19 made its way through Teton County, St. Pierre was hard at work verifying and validating a brand-new automated testing system called a BioFire Torch. The verification process, which can often take a week to complete, took two days under her supervision.
Mendillo and St. Pierre started out as medical laboratory scientists in the lab at around the same time, but their paths to the profession were very different. For her undergraduate degree, Mendillo went through a four-year program that prepared her specifically for a career as a medical laboratory scientist.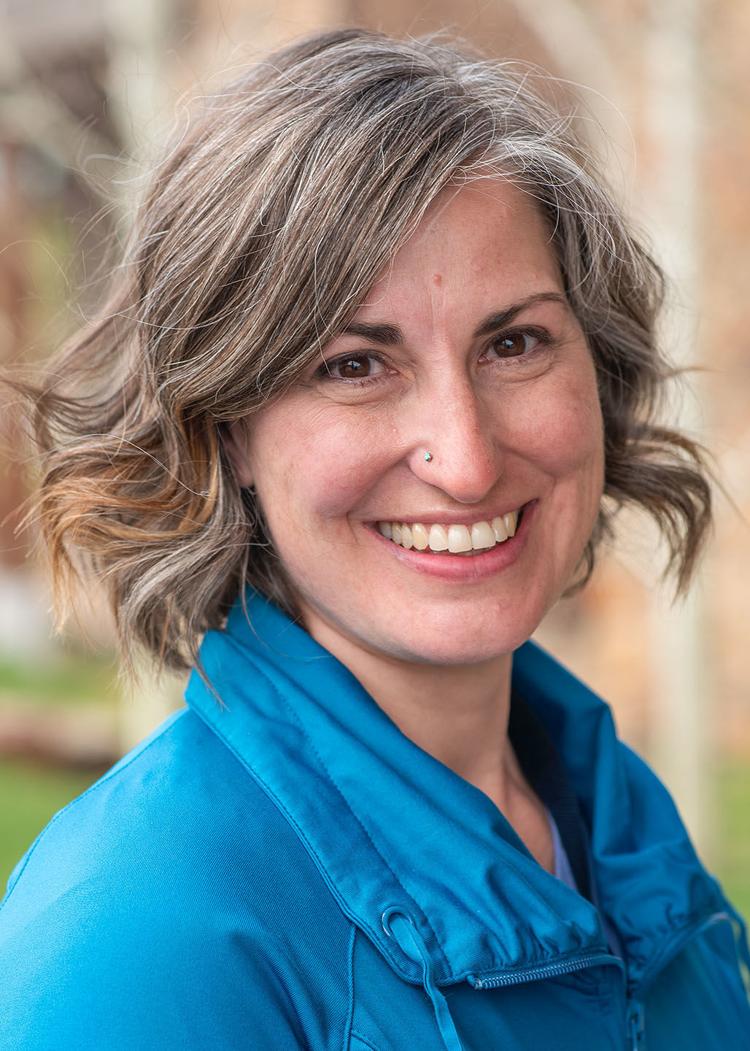 "My path was very direct," she said.
St. Pierre, on the other hand, has a graduate degree in wildlife biology from Arkansas State University. She moved to Jackson with her husband, Drew Reed, after he found a wildlife job in the area. After a few years of working seasonal wildlife jobs in the summer and customer service gigs in the winter, St. Pierre became burned out and entered the nonprofit sector. She worked at the National Museum of Wildlife Art and the Jackson Hole Conservation Alliance.
"They were all really good jobs, and I really liked the people I worked with," St. Pierre said. "But I was missing that passion in my work. You have those moments where you sit back and you think, 'I'm not feeling like this is where I want to be, so where do I want to be?'"
The last time she remembered being truly engrossed in her work was in her role in a microbiology lab during her undergraduate days. So, in a characteristically decisive move, St. Pierre did a career 180 and applied to work at the lab at St. John's.
Because she didn't have any qualifications, she started out as the department secretary. But her hard work and intellect saw her quickly rise through the ranks.
"I would say I've worked about every position in the lab," she said.
Through a scholarship program at the hospital she went back to school for medical laboratory science while working as a phlebotomist in the lab. Now, the employees she supervises are all working in jobs that she has done at one time or another.
"I like to think that it makes me more understanding," she said.
St. Pierre attributes her tenacity to her mother's influence. Like her daughter, St. Pierre's mother started in the bottom tier of a company and worked her way through the ranks to play an integral leadership role.
"She worked at Cigna health care for most of my life," St. Pierre said. "She started in the mail room and worked her way up to project manager. In a lot of ways I'm very much like her."
Although St. Pierre doesn't have children herself, she is a natural caretaker. Her nuclear family includes a cockatiel, a rescue mutt with Pyrenean mountain heritage and five pack goats named Ronin, Xander, Kabuki, Griz and Tyton.
"Our animals are our family to us," she said.
St. Pierre and Reed recently completed a modular home in Red Top, where they live with their animals. Though she said the process of building a home in Teton County was "horrible," she has no regrets. She is attached to the community here, and its response to the COVID-19 crisis has only bolstered her fondness for her fellow valley denizens.
"Watching community members and organizations come together has been amazing," she said. "We don't want to go to another community where people don't have the same kind of care and concern for each other."
Although St. Pierre is wary of commercial interests in the valley, she is cautiously optimistic about post-coronavirus Teton County.
"I hope it does change our future," she said. "I know that there is a lot of pressure to bring in more tourists. But hopefully we learn a little bit about taking care of our community first."