Amid the T-shirts and trinkets and ball caps in the Million Dollar Cowboy Bar Gift Shop, Julie DeShaw figures she has traveled the world a few times without ever having to leave.
During her nearly 20 years in the shop she has served politicians, movie stars and an endless stream of fascinating people from all corners of the globe. She serves them all equally — no special treatment for the stars.
"I always check ID for credit cards, no matter what," she said. "You could be the president of the United States, I will check your ID."
DeShaw has yet to actually demand a president's credentials, but she did inspect the license of first lady Laura Bush during her husband's time in office. The same goes for Tommy Hilfiger, Sandra Bullock, Charlie Daniels and who knows how many more of the rich and famous who have popped into the shop.
She deals in souvenirs, giving visitors to Jackson Hole a vessel for their memories of the valley. But whenever possible she finds ways to preserve her own memories of customers in one form or another.
Some give her keepsakes. From Willie Nelson she got a guitar pick, from a particularly generous customer she got a $500 ticket to a Willie Nelson concert and from former Vice President Dick Cheney's guardians she got a Secret Service pin and a tree ornament (she assured them "their secret was safe with me"). On top of that, she sometimes takes photographs with the people who pass through the shop.
Even without those mementos, though, her mind brims with remembrances of the connections she has made over the years — the parents who spent Christmas in Jackson, unable to bear a holiday at home after the death of their only child. The Vietnam veteran who watched his best friend die in combat.
"What do you do?" she said. "I can't just say, 'Excuse me, I'm selling shirts here.' No, you need to listen to people's stories. Everybody has one."
DeShaw has an acute sense for stories. At will she can recall historical tidbits from around the West, drawing up names of rodeo riders from the mid-1900s, chronicles of obscure local celebrities from pioneer times and, of course, countless tales of the Cowboy Bar.
She's especially sensitive to the legacy and lore of Jackson Hole, and she fears the valley's sense of self is eroding as Western emblems vanish in the modern age. But she considers her job an opportunity to keep the saga alive: "Anything that I know, I pass forward.
"We need to preserve all our history," she said. "That's why people come here. Not just to see the Tetons and Yellowstone, but to feel like John Wayne and Calamity Jane."
Having lived the frontier life herself, she's an apt ambassador.
After a military brat upbringing — much of which she spent in Germany, her mother's home country, during the Cold War — DeShaw and her parents moved to Sheridan when she was 17. She promptly left for Montana, where she raised three children, largely on her own. It was the country life she always dreamed of as a child, and she was proud to give it to her daughters.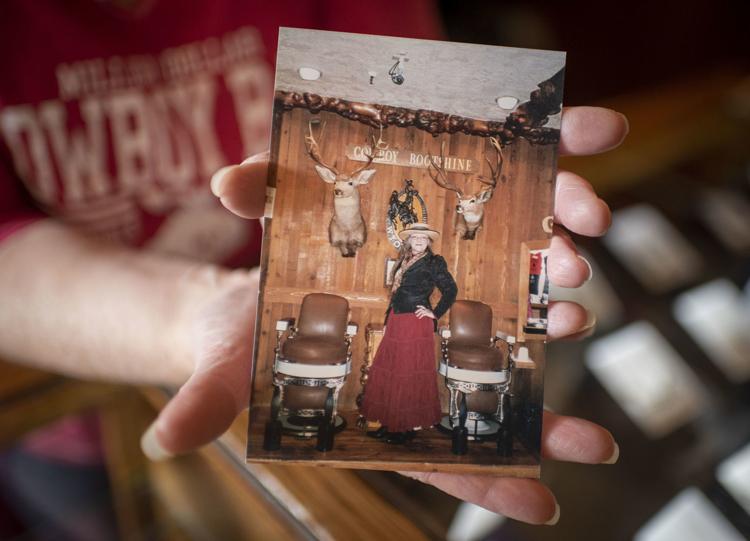 But it wasn't cushy. They later wound up in North Dakota, where DeShaw married her second husband, a rancher. She canned, melted snow to wash the dishes and cooked over a wood-burning stove when the power went down. In the dead of winter, when 90 below zero storms threatened even the cattle, she braved the biting wind to bring them under cover.
"I did whatever I had to do to survive," she said. "You need to have those skills when you're living in the West."
She moved to Jackson in the early 2000s, following her oldest daughter, who is now a banker in town. In some ways life grew easier, but she found new challenges. For several years she worked two jobs, essentially from 8 a.m. to midnight, commuting to and from Alpine (she now lives in Freedom with her partner, Bob Williams).
Nevertheless, she was happy. A single child, DeShaw has "a tendency to adopt people into my life," and she did so with her co-workers at the gift shop. She felt like she had sisters, and no shortage of friends in the other bar staff. She cherishes her many memories of nights spent swing dancing and do-si-do-ing on the dance floor, and simply getting to know people.
Some of her stranger experiences have taken place there, too. Once, late at night, she's certain she saw three tall, ghostly figures strolling through the building. She's a "firm believer," she said, and she's far from the only one to see such apparitions at the bar. It's just another chapter in the story of Jackson's most iconic venue.
"It's all part of our history, our legacy at the Cowboy Bar," she said, "and it'll keep continuing on long after myself."
In fact, she mused, she might just become part of that history herself: "Maybe I'll present my spirit there when I'm gone."