Lindsay Linton Buk's first child is due Dec. 10, exactly 150 years to the day that Wyoming ratified a woman's right to hold office and vote.
"I like to stay on brand," laughed Linton Buk, the artist behind "Women in Wyoming." "I think it's like 4% of babies that actually come on their due date."
Admittedly, she also doesn't know if the baby is a girl or a boy, but should the stars align for the former it would make sense.
In many ways this child isn't her first, though. The multimedia exhibit that opened Friday at the Buffalo Bill Center of the West in Cody has been a project she's been nurturing since 2016. After three years of work, split into five chapters covering 22 women so far, she sent the project out into the world.
"It no longer feels like it's mine," she said as the opening reception in John Bunker Sands Photo Gallery came to a close. "It's everybody's."
"Women in Wyoming" started as a photography project with an audio component, the latter of which quickly morphed into a podcast. She aimed to explore possibilities of Wyoming — how women made it in the harsh, geographically spread out and sparsely populated state. Admittedly she was trying to answer that question for herself, wanting to know if there was a place for her to grow and thrive.
"I never imagined I'd have a future in Wyoming," said Linton Buk, who was born in Powell and mostly grew up there, traveling to Jackson for ski trips. She graduated from Middlebury College and later set out for a photography career in New York City after finishing a photography program at Northwest College in Powell.
She wasn't sure of her course, but she was certain she wasn't going to find it in a rural state. But something kept pulling her back home.
"I think when I was growing up, it's not like those opportunities didn't exist," she said. "I just didn't see them."
"Women in Wyoming" became her personal quest to explore the possibilities and inspire other women along the way. She dreamed of one day exhibiting at the Buffalo Bill Center — having cold-called the museum to see what she needed to do to land an exhibit ("I'm a big fan of the cold call"). But the first few years were a bit bumpy.
Her interview with Marilyn Kite, the first female Wyoming Supreme Court justice, was "completely unusable." Having only one mic at the time, her voice was muffled and the rest of the audio was pretty poor as well.
In another interview the mic was picking up background noise of a heater, so she and her subject had to sit in the cold for the interview. She learned, the hard way, to take down wall clocks and hide them under pillows.
Pressure was high. As the name suggests, the project features women from all over the state, sometimes from areas that are miles and hours away. Sometimes she had several days with her subject, sometimes only a few hours.
"There were some fumbles, absolutely," she said. "Thankfully all of my audio snafus happened with local subjects."
Initially she wanted her voice out of the project entirely, but settled in as the host, wanting to "find my voice," she said.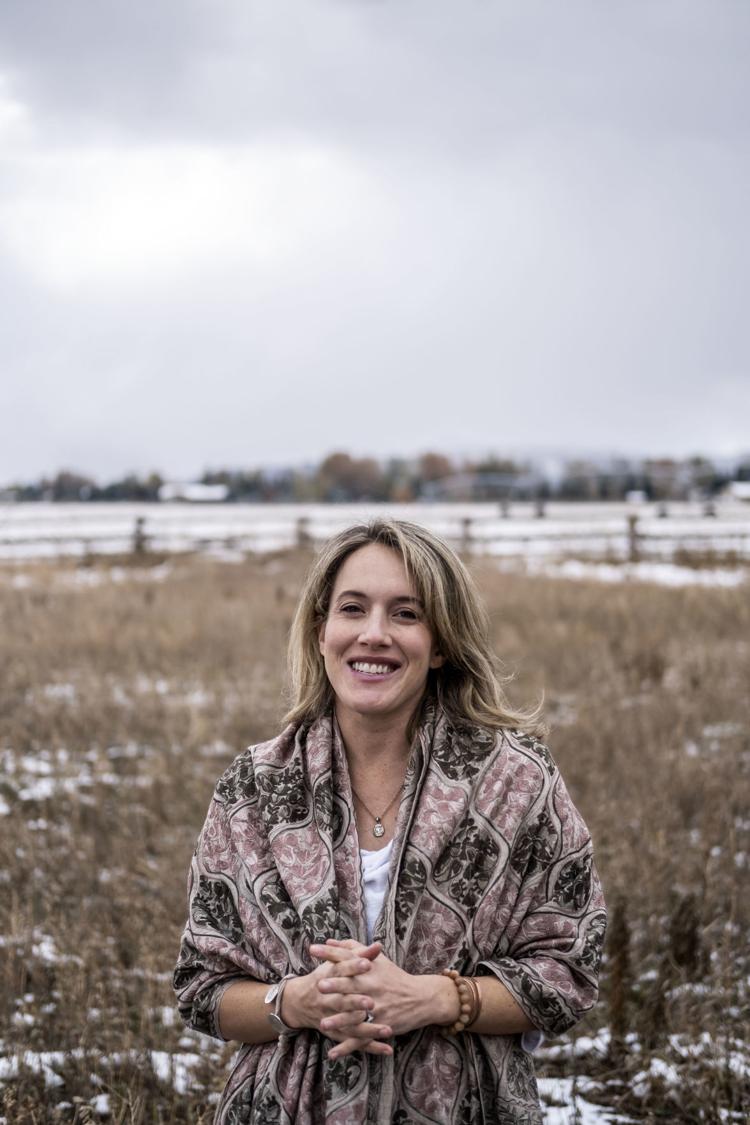 "To actually come out and speak has been an obstacle I've had to overcome," she said. "Part of the reason I wanted to do this project from the artistic standpoint is I have been shooting commercially for so long now. What do I have to say if it's not from my client's point of view?"
She hopes the project shows women of all ages what she couldn't see when she was younger.
"At this point it's like there's so much possible," said Linton Buk, 34. "I see it over and over again with my subjects. The original question I set out to answer I have answered for myself."
She's not sure what the next chapter of her life holds — she'd like to publish her work in a book, find another venue to showcase the exhibit ("I really need to start making those cold calls," she said.). and keep telling stories of Wyoming women. She's also preparing to meet her first-born, who will join her on the road as she wraps up her work on Chapter Five.
"I feel like this year is definitely one of creation," she said. "And evolution."