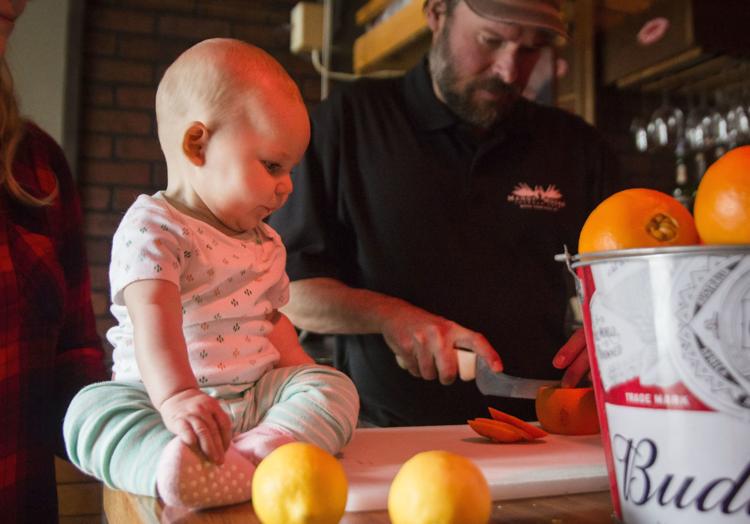 The Mangy Moose has a new member of the family.
A baby. A bit of a bar baby.
Last Friday, Callan Diem, who celebrated her 6-month birthday a day later, sat on the apres joint's upstairs bar. Her mom, Kelsey Wentz, watched while she played with a cocktail strainer. Max Diem, Callan's dad, was getting ready to open. Stocking limes and cleaning glasses, he looked at home behind the bar — one of two he has manned for 18 or so years.
When Callan tried to grab her mother's pint, set just out of reach farther down the bar, Diem gave his daughter a doting look.
"She's our little monster," he said.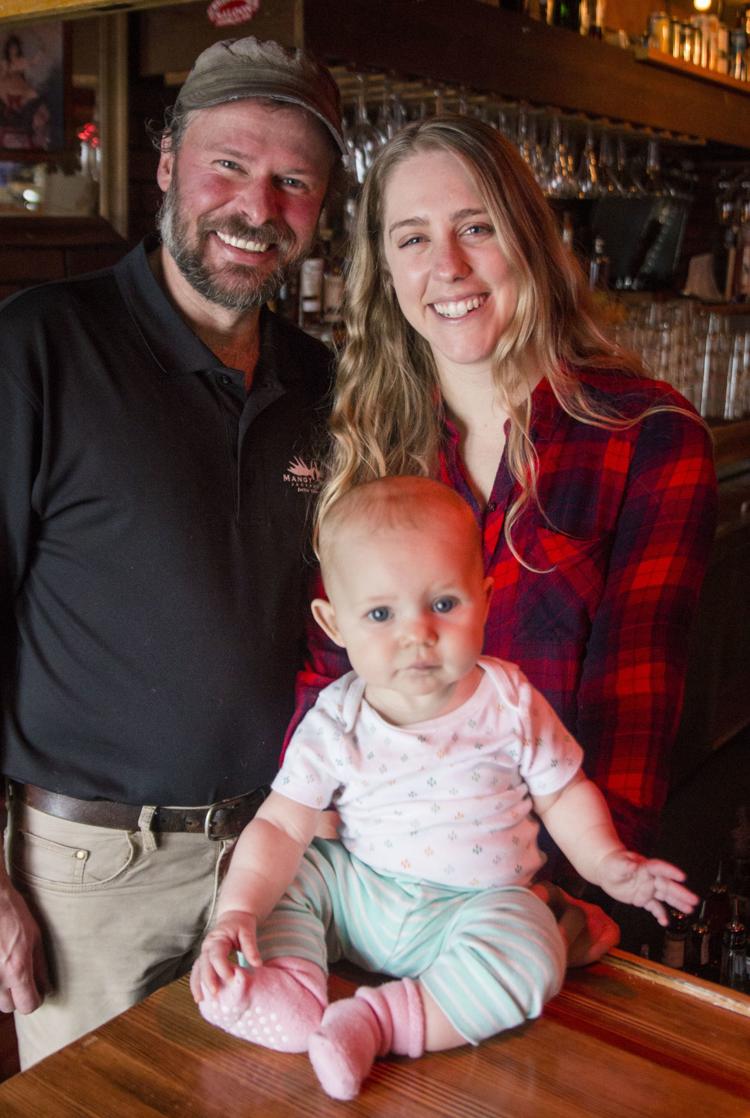 Diem, 43, and Wentz, 31, both bartend at The Moose and Teton Pines, where they met five years ago. Wentz had moved to town for the summer from Winter Park, Colorado. Diem, who made his way here from Bozeman, Montana, had already been in town for around 13 years.
That first summer, something clicked. Diem and Wentz started dating about a month after meeting.
"He lived near The Pines, so I was like, 'That's convenient,'" Wentz said, laughing.
When Wentz arrived she was in the heyday of her just-moved-to-Jackson years. She lived with four other people and three dogs at the base of Snow King Mountain. Diem had gone through that period a decade earlier. He'd sold all his stuff in Bozeman, moved to Jackson after skiing here for a week and bounced around town for a bit before buying a spot in The Aspens. He's worked at the Moose ever since moving to Jackson.
The two remember Wentz's first place fondly. Sort of.
Wentz said living there was "really fun," but she and Diem agreed on something else: "It was kind of a dump," Diem said.
"A total dump," Wentz said.
A few years on the drink-slinging duo have left their dirtbag diaries behind them. The two bartenders and their daughter share The Aspens apartment Diem bought years ago. Callan has become the focal point of the young family's life.
"This is the new priority," Diem said, bouncing Callan on his lap.
Like most other 6-month-old babies, she's a handful. While Diem and Wentz chatted with the News&Guide last Friday, Callan played with her tongue, which her mom said she'd just discovered, stuck her fingers in her mouth, squawked as her parents talked and pooped her pants. At home she has taken over the master bedroom. Her parents moved their mattress to the living room so Callan will sleep through the night.
"The first couple months — they were really tough for two people coming off of nine hours of sleep every time we wanted it," Diem said. "It was kind of an awakening, literally and figuratively."
Finding child care is also a juggling act. Diem and Wentz are both from Westchester, New York, and their parents still live in the Northeast. There are no grandparents to help with child care so they take advantage of having the same two jobs, trading shifts so one of them is always with Callan.
"She's with us constantly," Diem said.
Working with that schedule means the couple doesn't see each other as much as they used to. Certain things — like matrimony — have also been put on hold.
Though Diem and Wentz have had a ring for a year and half they don't say they're engaged. The formal ask hasn't come yet. Something else got in the way.
"We were going to do it, but then we were like, 'Well, let's have a kid,'" Wentz said. "So we decided to have a kid and then Max was like, 'I can propose,' and I was like, 'Well, let's just do one exciting life event at a time.'"
The first — Callan's birth — came in August. Halfway joking, Wentz said they might wait to get married until Callan is 6. Or 20.
That doesn't mean either has forgotten about it, though.
"I don't want to say it got pushed to the back or anything 'cause I think about it a lot," Diem said.
"You do?" Wentz said. "Aww."
These bartenders-turned-couple-turned-parents are also doing what they moved here to do: ski.
Last season Diem skied 142 days. Wentz skied 112. So did Callan, who joined her mom on the slopes in utero.
This year things are a little different — Callan's parents, for example, might not hit triple digits on the slopes.
Still, they're getting after it as a family. Callan has already gone skiing, carried by her parents in a Baby Bjorn. Next year they hope to get her in ski boots as soon as possible.
"As long as she can stand we can put her on little skis and slide her around in the yard," Wentz said.
With the same jobs they've always had, skiing like they always have — though maybe a little less — Diem and Wentz are going ahead, business as usual.
The biggest difference is the little monster they dote on and have in tow.