Strolling down to the sidewalk that runs the length of Jackson Lake Dam, John and Beth Bennett noted how many people there were — and had been all summer.
A family of otters was fishing and swimming in the outflow roaring out of Jackson Lake, creating an "otter jam" of photographers on the opposite bank of the Snake River. Pedestrians peeped at the mustelids from the dam's crest. Kids played on a gorgeous fall Thursday afternoon, looking down holes into the dam's bowels. The place was abuzz.
"It's been crazy this year," Beth Bennett said.
John Bennett built on his wife's observation: "And without the tour buses. Just think if we would have had the tour buses. The only August any busier was the year of the eclipse."
Beth and John Bennett know the scene and feel of the tourism crush at scenic Jackson Lake Dam as well as anybody. They live there. As recently as the 1940s that wasn't a unique claim — the community of Moran at the time was right next to the dam — but today the Bennetts have a one-of-a-kind lot in life dwelling at the dam site.
On this day John Bennett was acting on orders from his colleagues at the Bureau of Reclamation, making a routine adjustment to the volume of water being released through the lone gate — one of 19 — that was open, allowing water through into the Snake. His electronic adjustment to the greasy gate stem, which is essentially a giant screw, took just a few moments.
Realizing he had forgotten a tape measure to double-check his work, he went back up to the house to fetch one. Back along the crest, he wielded the tape and made sure he had turned the stem and closed the gate to a level that corresponds with 280 cubic feet of water coming through every second.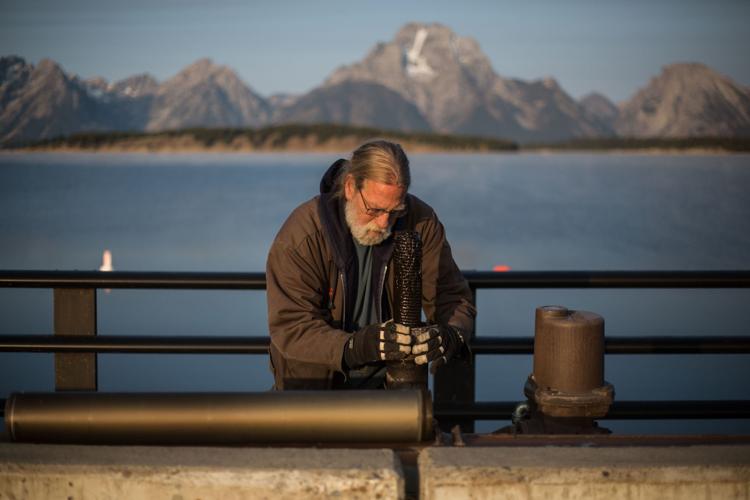 "15 inches," he said. "Sixteen, actually."
The dial was right where the 61-year-old dam tender wanted it. One inch of difference on the giant screw corresponds to roughly 20 cubic feet, or 150 gallons, per second. Jackson Lake Dam, in all likelihood, wouldn't need to be adjusted again in 2020. This was the last change necessary to reach "winter flow." A plastic gate cap took the place of the greasy stem, and that was a wrap.
"You don't want park visitors rubbing up against the grease," he said.
Beth Bennett, meanwhile, peeped down into Jackson Lake, looking for the trout that typically hover in the depths near the concrete structure.
"Somebody stole the fish, John," she said.
Her husband knew just what she was talking about: "Big schools of them, usually."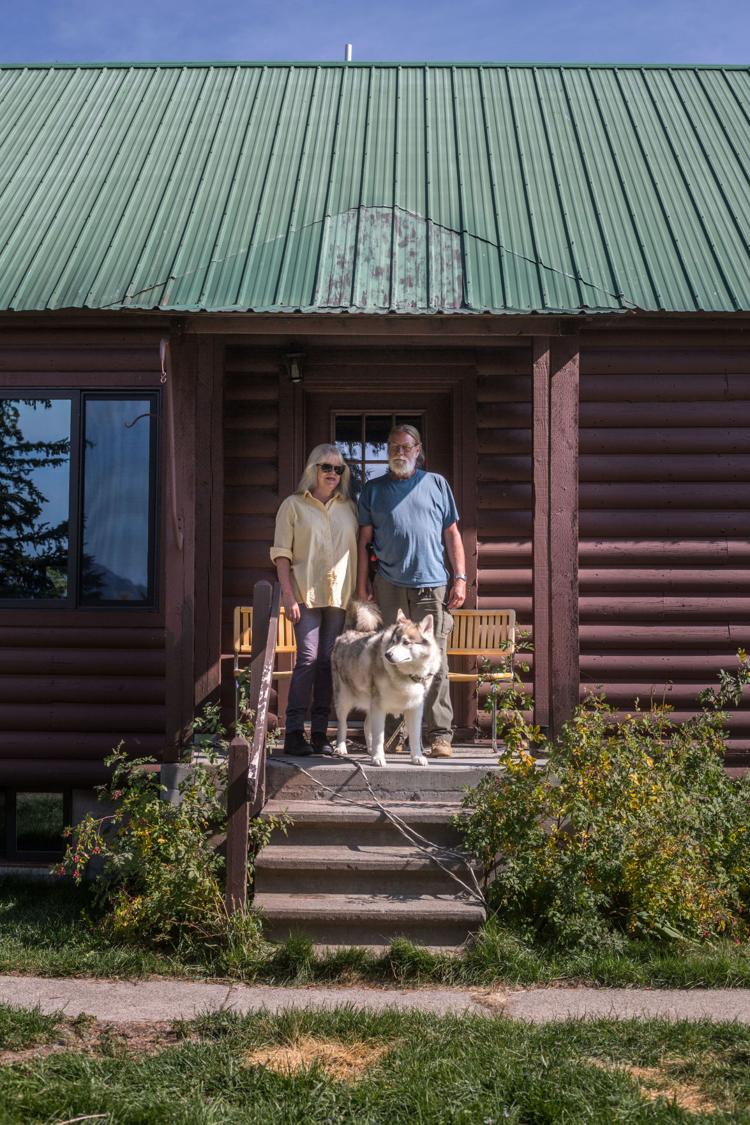 Walking away, he critiqued the aging impoundment that is so often the focus of his days: "For the most part she's good, but you've got to remember that a lot of the parts are 100 years old," he said. "1916."
Beth and John Bennett didn't come into their life by happenstance. For years they had an inkling they wanted to be here. Living outside in Logan, Utah, she had an affinity for coming up to the Tetons as a weekend getaway. He loved Yellowstone.
In her Logan days Beth Bennett worked for Campbell Scientific in a mechanical assembling role. She worked on mundane equipment as well, but a crowning achievement was having a hand building a part that still lives aboard the International Space Station. Her husband worked for a private firm that specialized in road construction.
Twenty-seven years ago they met at the Logan bar Country Friends.
"I asked her to dance," he said, "then I proceeded to kiss her on the dance floor — on the first dance."
Beth Bennett, laughing, said she was "having none of it."
"I wouldn't answer his calls," she said, "or see him for months after that."
Another bar encounter tipped the scales the other way, and soon they had kicked off a relationship. Living in Cache Valley from 1995 to 2003, they starting making trips to Grand Teton National Park two or three times a year.
"We'd drive past here," he said, "and wonder what you had to do to live in this house."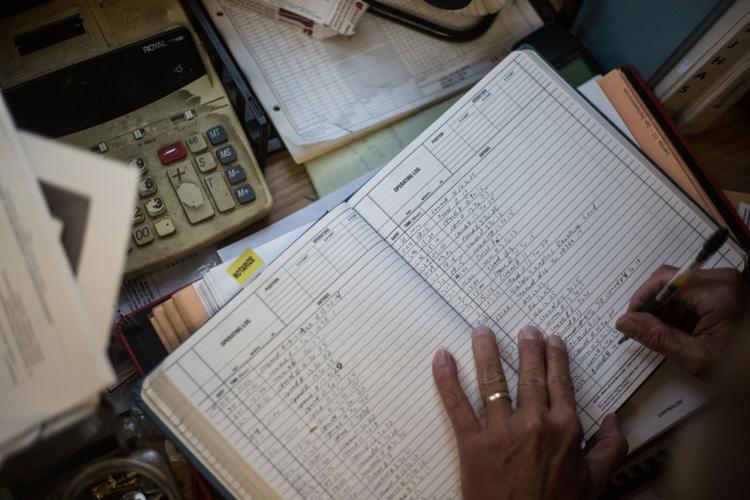 At the time, they said, Larry Robinson was in the Jackson Lake Dam maintenance job, a gig he had held for nearly two decades.
Instead of coming north, the Bennetts pointed south to the desert when a job came open to maintain the Alamo Dam, which backs up the Bill Williams River upstream of where it runs into the Colorado River's Lake Havasu. Living and working at the dam site was an exercise in solitude and isolation. Groceries were 75 miles away, their post office a 40-mile jaunt.
By comparison, the Jackson Lake Dam life is less secluded and more people-packed.
Their Bureau of Reclamation home isn't far off the main drag of Teton Park Road, which is often a thoroughfare from sunup to sunrise May through October.
Come winter there's a dramatic reduction in traffic.
"We like winter, and we like being alone," Beth said. "The winter has its own magic here. Full moons and being able to catch the Northern Lights is amazing."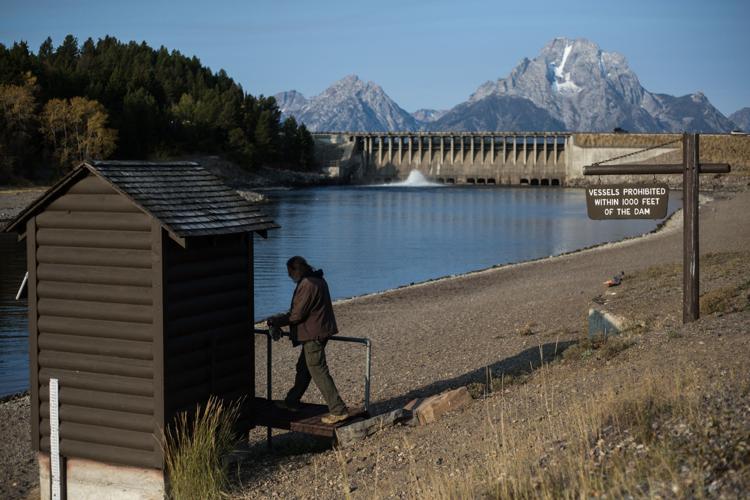 Part of what makes the dam site so bustling the rest of the year is the Bennetts' non-human neighbors. Jackson Lake Dam is grizzly bear central and the heart of the range of some of Grand Teton National Park's most famous wild residents. Beth Bennett shared a glimpse of her life on social media in September, when she posted a series of photos of grizzly 399 and her four cubs grazing on grass in their yard.
"It was just a really cool, special moment," she told the Jackson Hole Daily at the time. "I am so grateful, and I understand how blessed we are."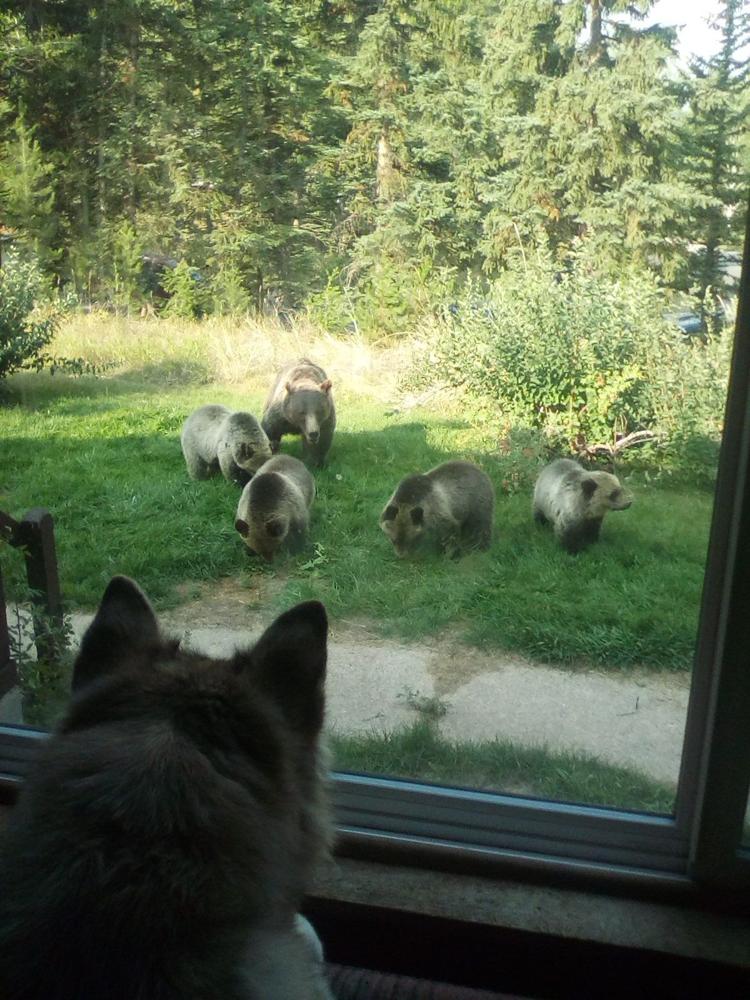 But it's not all fun and games. Because of bears and other wildlife, like moose, they always have to have their guard up and always carry bear spray, even just to poke around in the yard.
"We took this job knowing there would be bears in the yard," John Bennett said. "But we didn't know that there would be that many."
His wife added: "Or that they would be world-famous."
The Bennetts rave about their human neighbors too, be it Grand Teton National Park's wildlife brigadiers, the road maintenance crew or the concession staff down the way at Signal Mountain Lodge.
When nobody's in the neighborhood, there's a husky mix, Nordic, and a house cat with the build of a bulldog to keep the couple company. Until COVID-19 sprang up they enjoyed regular visits from their three kids and four grandchildren. But now mostly it's a lot of time together.
"We pretty much live in each other's pockets," she said. "It's a good thing we like each other."